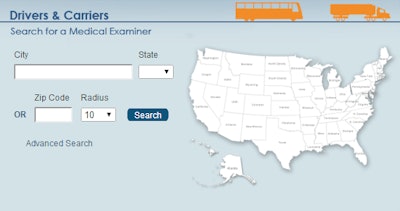 The online tool that truck drivers use to find a U.S. DOT-certified examiner to obtain their medical certification is indefinitely down, according to a memo posted to the Federal Motor Carrier Safety Administration's website, most recently updated Wednesday.
The agency says it does not have a timeline for when the National Registry of Certified Medical Examiners will be live again. FMCSA is "working as expeditiously as possible to correct a technical issue affecting" the site, says agency spokesperson Duane DeBruyne. The agency is directing drivers in need of medical certification to reach out to examiners directly "to verify that they are certified and listed in the National Registry," DeBruyne says. "We apologize for the inconvenience," he adds.
Certified examiners are free to continue to conduct DOT physicals and issue certifications. Examiners are being told by FMCSA to hold on to the results from completed physicals and then upload them when the system is back online.
Drivers are required by an FMCSA rule enacted in 2014 to use an examiner from the registry to receive their required DOT physical and medical certificate.
Examiners are required to pass certain tests to become certified by the DOT and be listed in the registry.