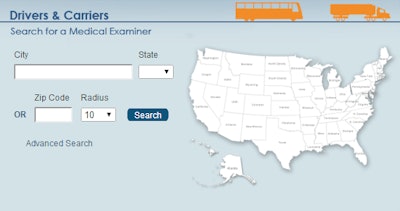 The Federal Motor Carrier Safety Administration has said that a hack of the online tool drivers use to find medical examiners for DOT physicals is the cause behind the site's now month-long outage. However, no data within the system, such as information on drivers, appears to have been compromised, the agency has told Overdrive.
"There was no evidence of exposure of the personal information of drivers, medical examiners or motor carrier operators," the agency said in a statement to Overdrive on Tuesday about the hack of the National Registry of Certified Medical Examiners.
The registry's website has been down since mid-December. However, examiners can still conduct exams of drivers and issue DOT-required medical certificates. The agency has instructed examiners to maintain results of physicals until the system is operational again, at which time they can upload results of the exams.
"The Department determined from its initial investigation that…there had been unauthorized access to the system. The incident remains under investigation, and the Department is working diligently to restore all impacted services to full functionality as soon as practicable."
The registry was instituted in 2014 and requires drivers to use a DOT-certified examiner within the registry to receive their physicals and medical certifications. Examiners are required by a separate rule to upload the results of such physicals to FMCSA the same day.