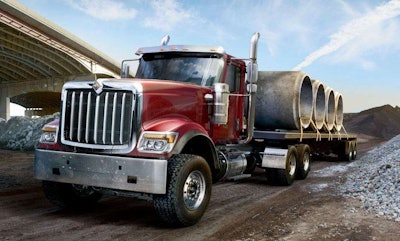 Navistar, maker of International Trucks, on Tuesday reported that for the first time since 2011, the truck and engine maker has turned a profit. The company announced a fourth quarter 2017 net income of $135 million, sealing the company's first year in the black in six years.
The gains posted during the fourth quarter this year – Navistar's second consecutive profitable quarter – represent a swing of $169 million compared to 2016 and was more than enough to push the company to a profit for the 2017 fiscal year. For 2017, the company reported an income of $30 million, versus a net loss of $97 million for fiscal year 2016.
Revenue for fiscal year 2017 was up six percent to $8.6 billion, compared to $8.1 billion in fiscal year 2016.
"Our 2017 was a breakthrough year, as we returned to profitability and grew our market share 1.5 points," says Troy A. Clarke, Navistar chairman, president and CEO, noting the share gain was largest single year marketshare gain in 8 years. "2017 started slow but it finished strong, and we took advantage of the second half growth in the Class 6-8 truck market."
The company finished 2017 with strong momentum across the board. During the quarter, the company launched the International HV Series line of vocational trucks. The HV Series, in addition to the HX Series premium vocational truck lineup, now has the option of being powered by the International A26 engine. The company also announced plans for its next-generation powertrains with alliance partner Volkswagen Truck & Bus, including big bore diesel, as well as electric medium-duty and electric bus platforms launching as early as 2019.
Looking ahead to next year, Clarke says he sees a stronger year for growth in the Class 8 market and steady sales in Class 6 and 7.
"We think 2018 is shaping up to be one of the strongest industry years this decade, and we're positioned to make it a breakout year for Navistar," Clarke says, adding by the end of next year Navistar expects to complete it's product lineup revamp.
For the fourth quarter 2017, the Navistar's truck segment recorded a profit of $112 million compared with a year-ago fourth quarter loss of $61 million. Clarke says the year-over-year change was primarily due to the impact of higher volume in the company's core markets and a decrease in used truck losses.
For the 2017 fiscal year, the truck segment recorded a loss of $6 million, compared with a fiscal year 2016 loss of $189 million. The improvement was primarily driven by the impact of higher volumes in the company's core markets and Mexico and a decrease in used truck losses, partially offset by market pressures and charges related to EGR product litigation.