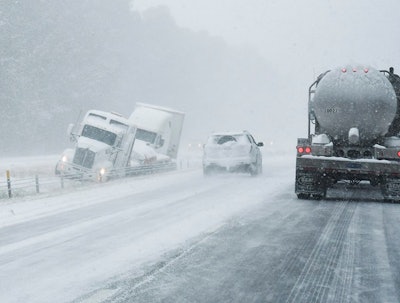 Please stay off the roads in affected areas of South Carolina due to potentially hazardous conditions. #WinterStorm #StaySafe
(Some photos taken yesterday along I-95 and I-26 pic.twitter.com/btDxN6OVpI

— SCDOT (@SCDOTPress) January 4, 2018
As a major winter storm hits the East Coast, several states have issued hours of service waivers for some truckers and restricted access to highways in anticipation of heavy snowfall and severe temperatures.
Governors in Georgia, North Carolina, Virginia, Maryland, New York and New Jersey have issued emergency declarations for all or portions of their respective states, triggering the suspension of hours-of-service regulations for truckers hauling gasoline, heating fuel and other supplies into the affected areas.
New Jersey Gov. Chris Christie declared a State of Emergency Thursday for five coastal counties, while Maryland Gov. Larry Hogan issued a declaration for three eastern counties – Wicomico, Worcester and Somerset. New York Gov. Andrew Cuomo issued an emergency declaration for New York City, Long Island and Westchester. Virginia Gov. Terry McAuliffe declared a State of Emergency Wednesday for the entire state. North Carolina Gov. Roy Cooper issued a declaration for the entire state, and Georgia Gov. Nathan Deal issued a declaration for 28 southeastern counties.
Florida, Georgia, South Carolina and North Carolina were impacted by the storm Wednesday. In Florida, a section of I-10 east of Tallahassee was closed for a couple of hours due to icy conditions.
In addition to the emergency declarations, Rhode Island Gov. Gina Raimondo instituted a tractor-trailer ban on all state highways between noon and 9 p.m. Thursday, Jan. 4. Rhode Island DOT says the restriction will help the department keep highways passable and safe for emergency vehicles. As of noon Thursday, RIDOT says state police had responded to nearly a dozen incidents with tractor-trailers blocking travel lanes.
As road conditions have deteriorated throughout the day Thursday, Massachusetts State Police has reduced the speed limit on the Massachusetts Turnpike to 40 mph.
The Pennsylvania DOT has also reduced the speed limit to 45 mph on several interstates and state highways in eastern Pennsylvania, including I-78, I-80, I-380, I-84, U.S. 22 and Pennsylvania 33.
As of Thursday afternoon, the storm has dumped upwards of 13 inches of snow in some areas in parts of New York, and more than 11 inches in parts of southern Massachusetts. In addition to snow and ice, Massachusetts is dealing with flooding in Boston and other coastal cities and towns.
From Boston to Barnstable, here's a look at how bad the flooding is today. https://t.co/Iu5XT3lZkC #Blizzard2018

— Jaclyn Reiss (@JaclynReiss) January 4, 2018
At least 3 dead as monster 'bomb cyclone' winter storm wallops Northeast https://t.co/SWIeZcezgO pic.twitter.com/YYTy9axrtA

— ABC7 Eyewitness News (@ABC7) January 4, 2018