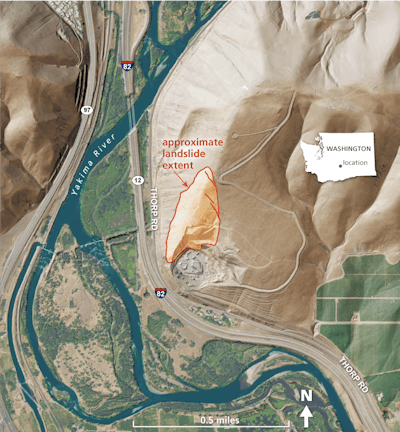 A slow-moving landslide near Yakima, Wash., could have a significant impact on I-82 when it breaks loose, according to Washington state officials.
The Washington State Department of Natural Resources estimates the landslide, located on "Rattlesnake Ridge," will have a significant event between Jan. 14 and Feb. 28. The department says there are "a number of possibilities" as to what will happen when the event occurs.
The most likely scenario, Washington State DNR says, will result in the landslide not reaching I-82. Other scenarios that are less likely could result in the landslide reaching I-82 or completely blocking it, the department adds.
Great information regarding the nature of the Rattlesnake Ridge landslide east of Yakima. https://t.co/VRSQKTTndc

— WSDOT East (@WSDOT_East) January 8, 2018
The Washington State Department of Transportation says it is monitoring land movement in the area, but I-82 remains open for now.
"So far, we have not seen any debris reach I-82," WSDOT says in a blog post. "At the first sign of more movement or increased frequency of falling rock, we will close the highway. However, when dealing with Mother Nature, it's hard to predict when this may occur."
If WSDOT closes I-82, a local highway detour will be along U.S. Highway 97 from Granger to Union Gap. I-82 would be closed in this case from milemarker 58 to 37.