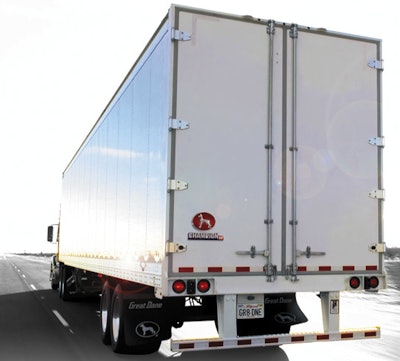 The bullish freight market in recent months — and the productivity restrictions brought by the electronic logging device mandate — have orders for new trucks and trailers surging. While those orders are a response to the tight truck market, they also indicate that freight movement will likely hold strong throughout the year, in line with forecasts that trucking capacity will be tested in the coming months.
Orders for new trailers in December hit an all-time high — 47,000 in the month, according to preliminary figures from FTR. Truck orders, likewise, jumped in the final months of 2017, with order numbers hitting their highest points since 2014's order spree — the last time trucking capacity was squeezed. Truck orders in December hit 37,500, up 77 percent from December 2016. Truck orders, which usually average around 20,000 a month, topped the 30,000 mark in October, November and December.
"We have seen pressure build on equipment markets for several months," says Don Ake, FTR vice president of commercial vehicles, "and this shows Q1 is going to be hectic as fleets scramble to keep up with freight demand."
Ake says fleets are ordering thousands of dry vans to deal with tightening trucking capacity in part due to the effects of the electronic logging device mandate. Carriers, he adds, are more frequently dropping-and-hooking to compensate for the lack of drivers and they need more trailers to manage demand.
Jonathan Starks, Chief Operating Officer for FTR, said equipment orders will likely remain elevated throughout 2018."ELD implementation is now in full swing and will continue through the initial enforcement phase of April 1 of this year," he said. "This is contributing to the tight capacity environment and is combining with strong freight activity to move freight rates higher. Our forecast continues to call for an increase in production for 2018, but market expectations are varied for 2019."