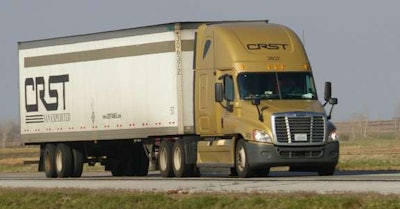 A trial date has been set in a lawsuit brought against CRST Expedited, a subsidiary of CRST International, by the U.S. Equal Employment Opportunity Commission on behalf of a driver who alleges the trucking company denied him employment because he used a service dog.
Leon Laferriere was admitted into a driver training program with CRST. Laferriere, a military veteran, claims he uses his dog to help control anxiety and wake him from nightmares caused by post-traumatic stress disorder (PTSD). He claims the carrier denied allowing him to advancing to on-the-road training and a job based on its "no pet" policy, which Laferriere and the EEOC claim is a violation of the Americans with Disabilities Act (ADA).
CRST, however, has challenged the driver's assertions. According to court documents, the carrier has said Laferriere did not have a true service dog and therefore was not protected by the ADA. CRST says a Veterans Affairs doctor "prescribed relaxation tools, such as a 'pet therapy/service animal, if possible,'" but that Laferriere's dog did not appear to be certified or trained as a service dog.
The carrier also says that Laferriere "did not inform CRST Expedited until late in the process of CRST's efforts to arrange a trainee driving position for him" that he had an emotional support dog. He only told the carrier he was concerned about what to do with the dog while he was on the road, the carrier says. What's more, CRST claims, the dog did "substantial damage" to the hotel room CRST had provided Laferriere during driving school, which CRST also paid for.
The civil jury trial is scheduled for Nov. 5 in the United States Courthouse in Cedar Rapids, Iowa.
According to the lawsuit, CRST allegedly developed a new "Service Dog Process" for addressing requests to use service dogs, but did not allow Laferriere to qualify for the new policy.
The lawsuit asks CRST to hire Laferriere and pay him back pay and front pay, along witth compensatory and punitive damages.
The two parties could still settle the lawsuit before it goes to trial.