In general on the spot market this week, as represented in this case by activity on DAT load boards, "load posts and spot rates continue to decline seasonally," says DAT's Matt Sullivan. At once, it's "basically the same story as the past couple of weeks," with rising fuel prices also contributing slightly to the effect.
"The lack of other factors" like widespread weather impacts, Sullivan contends, "make it more obvious that these sustained elevated prices" at least related to the capacity/productivity impacts of the electronic logging device mandate, now in place for more than a month.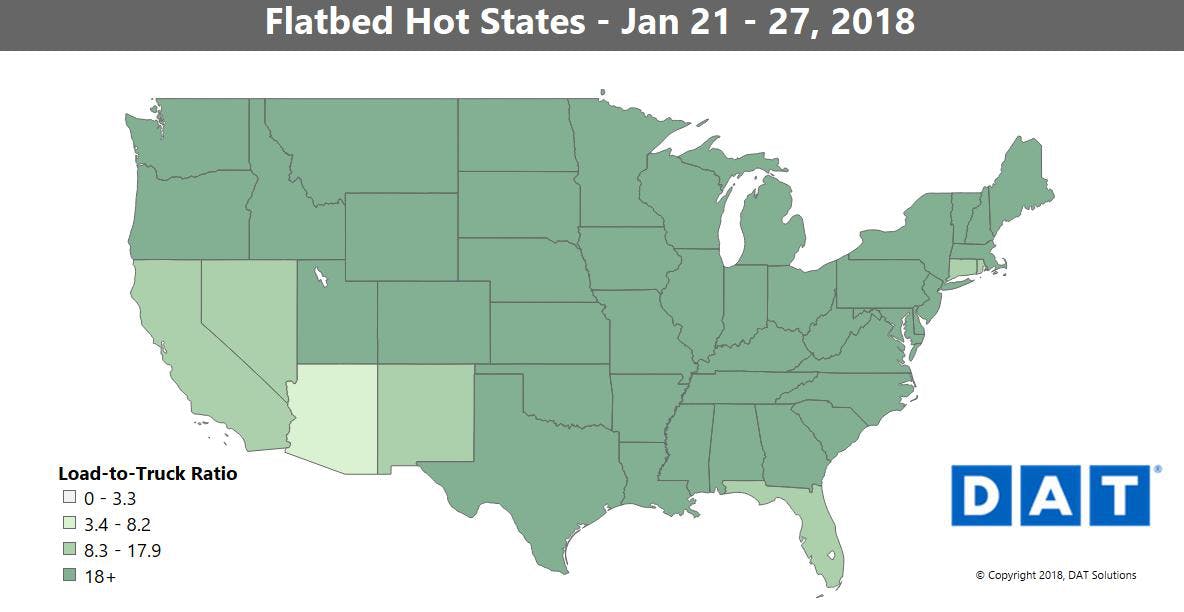 Hot flatbed markets: Houston is the No. 1 market for flatbed loads, and volumes have been improving there, though rates haven't followed suit yet. Farther north, outbound flatbed rates in Dallas rose 5 percent in January. Demand has also been heating up in Georgia, especially out of Savannah.
Not so hot: Flatbed demand weakened last month in Florida and Pennsylvania, though weather likely affected freight movements in Pennsylvania and kept the state dark in the map above. Florida, as is often the case, has a balance problem, where demand for inbound freight is much higher than the demand for outbound trucks. That pushed flatbed rates lower out of Tampa.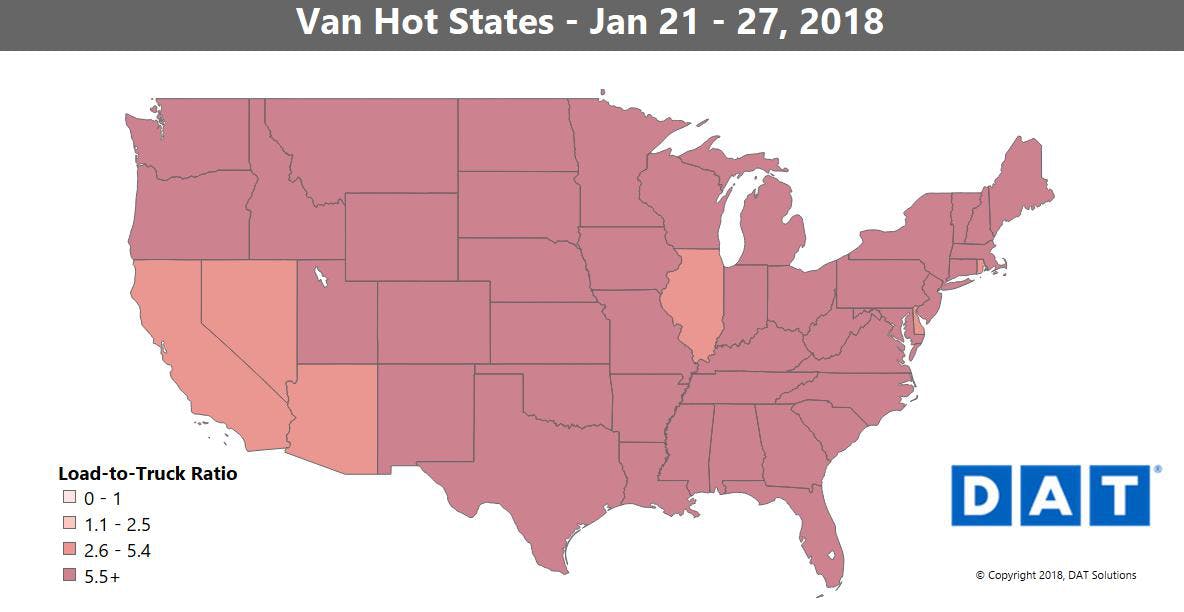 Rising fuel costs, topping $3/gal. nationally in recent weeks, have added to the pressure on freight rates, slowing their seasonal decline a bit. But the big story remains a capacity crunch that's put truckers in the driver's seat on rates, partly a result of proliferating ELDs following the mandate.
Though rates on most of the top 100 van lanes continue to slide, most remain high.
Hot van markets: Atlanta and Houston ran counter to the national trend. Volumes were up 27 percent in Atlanta, while van load counts out of Houston surged 33 percent. Rates were down in Chicago, Dallas and Stockton, Calif., but the modest increases in volumes in each of those markets could offset the pattern of falling prices as we move into February.
Not so hot: Warmer weather around the Great Lakes brought van rates back down closer to earth in the Upper Midwest. Prices fell out of Chicago, despite higher volumes. The West Coast has seen the sharpest declines in January, especially Los Angeles. The upcoming Chinese New Year may also lead to a slowdown in traffic at the West Coast ports.