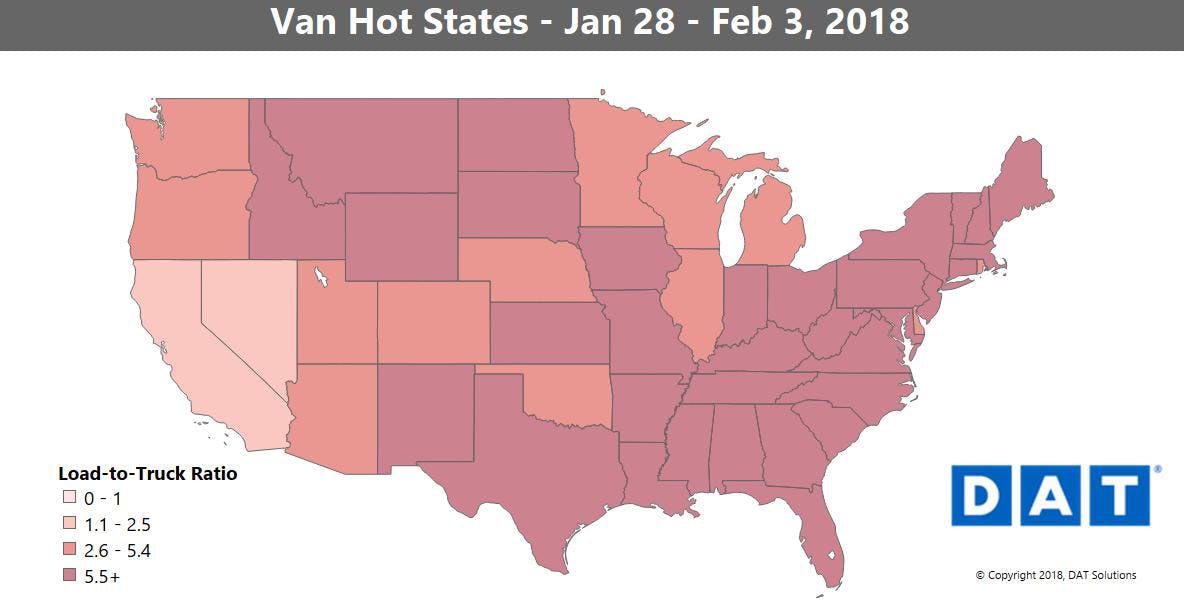 Spot rates in many parts of the country are still above the peak prices from 2017, but van rates are starting to climb down from extreme heights of recent weeks. We are transitioning into what is typically the slowest month on the spot market, but this is not a typical February.
The national load-to-truck ratio skyrocketed when the ELD mandate took effect in mid-December. The ratio measures the number of load posts on DAT load boards against the number of truck posts. The high ratio signaled tight capacity on the spot market, so shippers and brokers had to pay a premium to move truckload freight.
Last week the ratio dropped to 6.9 van loads per truck, which is right around where it was before the mandate started. That's still high, though, especially for mid-winter. By comparison, last year the load-to-truck ratio was 2.5 loads per truck in February.
Hot van markets: Van rates trended down in most of the country, with the exception of Buffalo, N.Y. Canadian freight heading into the United States has been accelerating, and Buffalo is a top gateway. Volumes also rose out of Seattle, and outbound pricing stabilized after a month of sharp declines.
Not so hot: As you can see in the map, California freight markets have been soft, with declining volumes and plenty of available trucks. Rates also fell sharply out of Chicago, while prices on lanes inbound to Buffalo fell in response to the higher demand for outbound freight.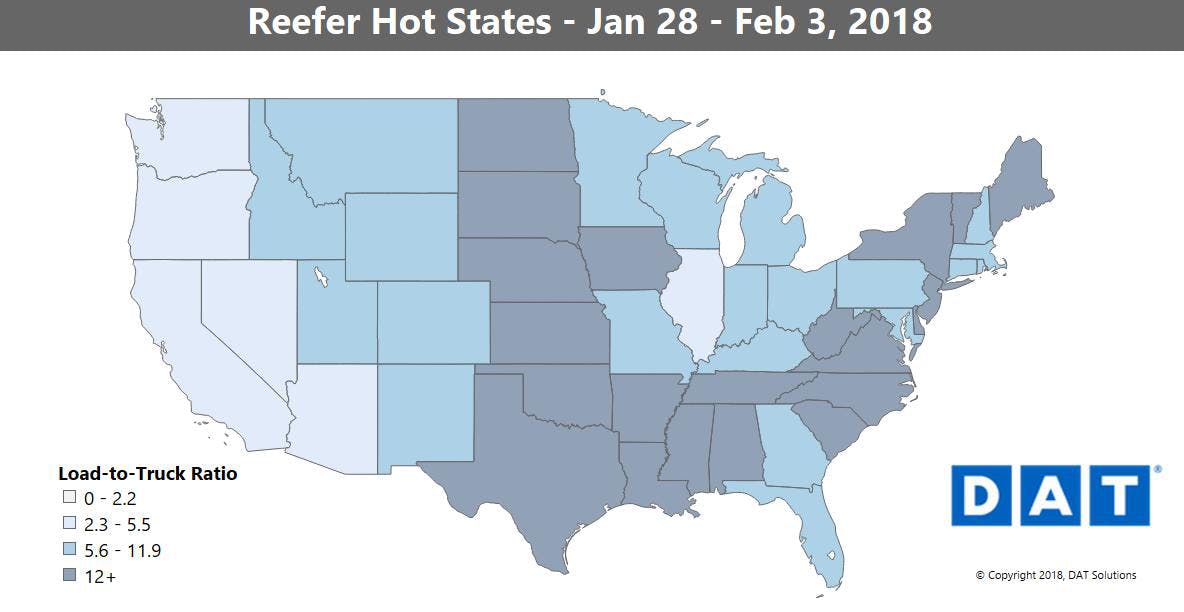 Hot reefer markets: Prices and volumes spiked out of Miami, which also helped to push rates higher out of Lakeland in central Florida. When Miami is busy, generally fewer trucks post availability to compete for loads in other parts of the state.
Not so hot: Rates fell sharply on a couple of lanes originating near the Mexican border. McAllen, Texas, to Elizabeth, N.J., dropped 51 cents to an average of $2.76 per mile, while the cross-country trip from Nogales, Ariz., to Brooklyn, N.Y., paid 79 cents less at $2.43 per mile. Reefer rates out of Green Bay, Wis., also took a big step back from previous highs.