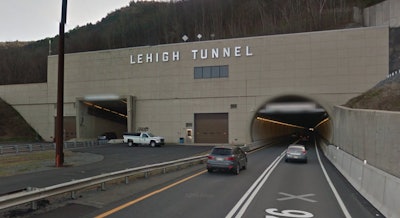 Photos of tractor trailer involved in Lehigh Tunnel crash. Authorities say a metal beam crashed through the windshield. Truck found pulled over just outside tunnel, driver deceased. @wbrewyou pic.twitter.com/rUGlWM7WJJ

— Brianna Strunk (@bstrunknews) February 22, 2018
A 70-year-old truck driver was killed on the Pennsylvania Turnpike this week after a section of electrical conduit fell from the roof of a tunnel, crashed through the driver's windshield and struck him, according to an Associated Press report.
Howard Sexton III, of Mickleton, N.J., was driving inside the Lehigh Tunnel when the incident occurred. Sexton's truck reportedly continued for about a mile after being struck by the conduit. He was already dead when emergency crews arrived, the report states.
According to the AP report, Lehigh County Coroner Scott Grim said the conduit was a large pipe that damaged other vehicles in addition to Sexton's truck. Turnpike spokesman Carl DeFebo told AP the Lehigh Tunnel's southbound tunnel is the only one on the turnpike in which the electrical conduit is directly above drivers.
The tunnel is located near Slatington, north of Allentown.