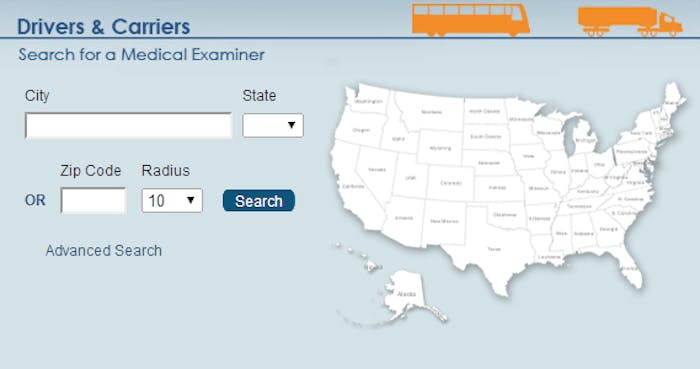 Truckers can now search the DOT's online registry for certified examiners by zip code, says the Federal Motor Carrier Safety Administration, but the full registry remains offline three months after a hack prompted its outage.
After repeated queries from Overdrive, FMCSA has not offered a timeline for when the National Registry of Certified Medical Examiners will come back online or whether it has confirmed that drivers' and examiners' information was not exposed, among other questions. FMCSA said Jan. 9 that it didn't appear that any information on drivers, examiners or carriers had been stolen.
While the search function was disabled, users had to locate on their own whether any medical examiner is certified by FMCSA and listed on the registry. Now users can search by zip code at this link.
Though the hack and outage haven't caused issues with roadside inspectors checking drivers' medical certificates, it has forced examiners to backlog exam results until the site enables them to upload the results to FMCSA. Also, examiners interviewed by Overdrive last month fear the potential of fraudulent medical certificates to be created, should any information about examiners have been stolen in the hack.
Collin Mooney, executive director of the Commercial Vehicle Safety Alliance, said in late January that the outage should not cause issues during roadside inspections. "The drivers are still required to take the medical [certificate] to the state and the state updates the CDL. Medicals are still able to be verified at roadside through CDLIS, not the national registry."