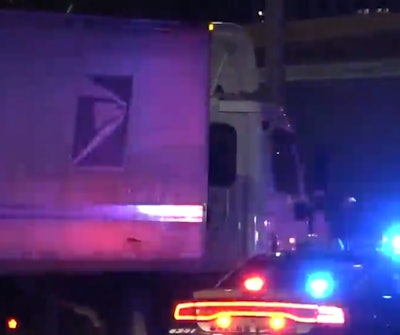 A man who allegedly shot and killed a United States Postal Service truck driver near downtown Dallas, Texas, last week has been arrested and charged with murder of an employee of the United States while the employee was engaged in the performance of official duties.
An investigation by the Dallas Police Department, U.S. Postal Inspection Service and the FBI led to the arrest of Donnie Arlondo Ferrell, 25, of Hutchins, Texas.
Ferrell allegedly shot and killed trucker Tony Mosby shortly after 2 a.m. Monday, Feb. 19, in an incident of road rage. According to a press release from the U.S. Attorney's Office for the Northern District of Texas, at least three gunshots were fired at Mosby and his truck, and one of the shots fatally struck Mosby in the head.
According to a criminal complaint, two people told the FBI they had been out with Ferrell on the night of Feb. 18 and left a pool hall in Dallas around 1:30 a.m. on Feb. 19. Ferrell was allegedly in the front passenger seat of a vehicle, the complaint states. The complaint says one of the witnesses told the FBI the vehicle Ferrell was riding in "began driving erratically and, at one point, was right behind a large USPS truck." The driver then went to pass Mosby's rig on the left side, which is when Ferrell allegedly fired the shots toward the truck.
One of the occupants of the vehicle stated they asked Ferrell why he had shot at the truck, and he responded that "the driver of the USPS truck had made a hand gesture towards their vehicle and that angered Ferrell," the complaint states.