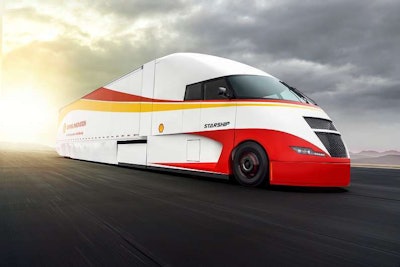 Shell Lubricants unveiled Tuesday its Starship Project concept truck, a fuel-sipping Class 8 combination tractor-trailer designed in conjunction with AirFlow Truck Company to showcase the feasibility of energy-efficient freight movement.
"We seek projects such as the Starship initiative to keep Shell at the leading edge of technology development and energy efficiency," said Bob Mainwaring, technology manager for innovation, Shell Lubricants. "The transportation industry is constantly changing, and our goal is to be at the forefront of innovation by collaborating with companies like AirFlow and others to develop creative solutions that provide benefits for years to come."
The Starship, introduced at the American Trucking Associations' 2018 Technology & Maintenance Council Annual Meeting in Atlanta, is the third aerodynamic tractor-trailer built by AirFlow. In 2012, its Bullet Truck ran coast-to-coast hauling freight at 65,000 pounds gross vehicle weight and averaged a record 13.4 mpg.
The Starship tractor – including side skirts, hood and front end – is clad in carbon fiber and powered by a 400-hp Cummins X15 engine running on Shell Rotella T6 Ultra 5W-30 low-viscosity API FA-4 engine oil that has been formulated to provide better fuel economy, improved high and low temperature performance and meets the requirements for many low emissions engines.
A custom Department of Transportation-approved wrap-around windshield was designed specifically for the truck. Deployable trailer gap fins, aerodynamic boat tail and side skirts covering tractor and trailer wheels aid in aerodynamic efficiency.
The trailer also includes a 5,000-watt solar array to power interior accessories and reduce the energy load.
With new fuel economy regulations on the horizon and the need for continuing advances in fuel economy and emissions reductions, Shell Lubricants recognizes that a holistic approach to making fuel economy gains is important. This includes advances in engine and drive train technology, the use of low viscosity synthetic lubricants, aerodynamic designs, efficient driving methods and more.
Shell plans a cross-country road trip demonstration in May, starting in Napa, Calif., and ending in Jacksonville, Fla. AirFlow and Shell will seek to reduce the energy usage associated with the transportation of goods through improved fuel-economy for a Class 8 truck and the measurement of freight ton efficiency.