The number of loads on DAT load boards slipped 1.2% last week and truck posts increased 2% so it's no surprise that load-to-truck ratios kept their balance:
Van LT ratio = 6.8, unchanged
Flatbed LT ratio = 86.7, down slightly from 88.5
Reefer LT ratio = 10.1, down from 10.5
National average rates for all three equipment types were unchanged.
While the spot market may seem to be on a plateau, it's on much higher ground compared to a year ago. Last week's national average load-to-truck ratio was 14.1, nearly double what it was at this time last year. And spot van, flatbed, and reefer rates are well ahead of last year's pace.
"The quarter close" upcoming this year "coincides with Easter and the start of the penalty phase for ELDs, and then we're into the spring freight season, when the load board really starts hopping" typically, says DAT's Peggy Dorf. Van, reefer closer looks follow: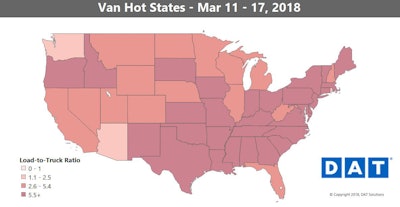 Overall, 54 of the Top 100 van lanes were up, 41 were down, and five were unchanged.
Hot markets: Houston is the leading van market in terms of spot-volume growth in 2018. Volume jumped 4.6 percent last week and Houston to Oklahoma City—a key lane for energy-related freight—gained 22 cents to an average of $2.35/mile. Allentown, Pa., outbound volume increased 2.6 percent as final-mile retail freight activity picked up ahead of Easter. Rates spiked on Allentown lanes into Northeastern markets: Allentown to Boston was up 28 cents to $4.01/mile.
Not so hot: Both Buffalo (down 2.2 percent) and Seattle (down 2.3 percent) had strong outbound volumes last week. Their slide may be a case of inbound traffic being even stronger, bringing capacity into the market.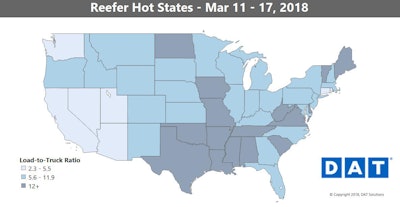 Reefer hot markets: Chicago load availability jumped 16 percent and rates on several outbound lanes were higher, while Green Bay rates rose despite lower volumes as the mix of freight shifts to shorter hauls of dairy, meat, and other non-produce loads. Lanes with gains:
**Chicago to Philadelphia, up 36 cents to $3.53/mile
**Chicago to Kansas City, up 36 cents to $3.53/mile
**Green Bay to Des Moines, up 52 cents to $3.09/mile
**Green Bay to Joliet, Ill., up 35 cents to $4.01/mile
More decent news? It's fresh produce season somewhere. California volumes were up 7.6 percent last week—that state is no longer a headwind to reefer pricing. And Florida volumes will likely be up this week and next. Spring has sprung and fruits and vegetables are on the move.