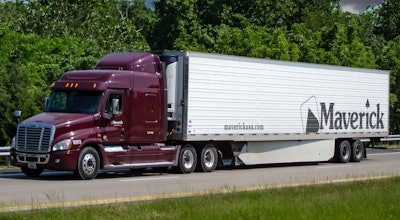 Maverick Transportation (No. 74 on the CCJ Top 250) announced this week it will increase per-mile pay for its over-the-road reefer drivers at the end of this month.
Drivers in the company's OTR Temperature Control Division will see a 5-cent boost in per-mile pay, bringing starting pay to between 51 and 55 cents-per-mile. Student drivers will start at 45 cents-per-mile in this division. Temperature Control Division drivers are also guaranteed a $1,000 weekly minimum.
In addition to per-mile pay, Maverick drivers also get pay increases up to five years, performance bonuses and driver referral bonuses, among other benefits. The company is also currently offering a $5,000 sign-on bonus for drivers with at least one year of verifiable experience.
At the end of the year last year, Maverick increased pay for its flatbed and glass OTR divisions.