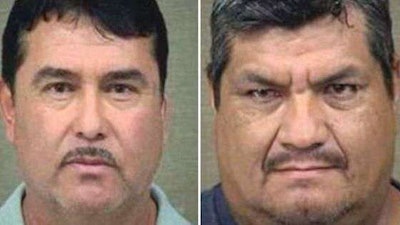 Two truck drivers were arrested over the weekend in North Carolina after police found more nearly $91 million worth of liquid methamphetamine in the driver's side fuel tank of a 2009 Peterbilt, according to a report from Durham, N.C., news station WTVD.
The report states there were 120 gallons of liquid meth in the fuel tank, which would be converted to 454 kilograms of crystal meth. The estimated street value would be $90.8 million, the report adds.
Raul Topete Arreola, 49, and Aquileo Perez Pineda, 48, were each arrested and charged with three counts of trafficking methamphetamine. The stop was made in Linden, N.C. A separate news report from WNCN stated an investigation into the trafficking of methamphetamine had been ongoing for several months.
According to WTVD, an immigration detainer has been issued for Pineda, and U.S. Immigration and Customs Enforcement is looking into Arreola's immigration status.