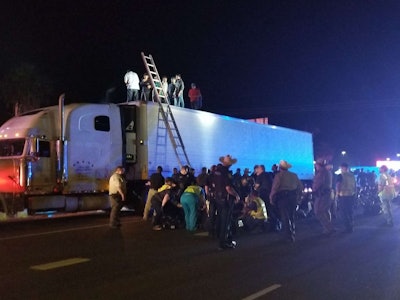 Dozens of illegal immigrants were found in the back of a tractor-trailer this week in south Texas near Raymondville, according to a report from FoxSanAntonio.com.
The truck was reportedly pulled over Tuesday night for a traffic violation along Highway 77.
During the traffic stop, police opened the trailer doors and found 90 undocumented immigrants inside. Two of the people were taken to the hospital for treatment of dehydration. All 90 were taken into custody, the report states.
The report adds the driver and passenger of the truck were arrested. No other information has been made available as of Wednesday afternoon.
This human smuggling case comes on the heels of a truck driver receiving two life sentences for his role in a grisly human smuggling case from last summer in which 10 immigrants died in a trailer.