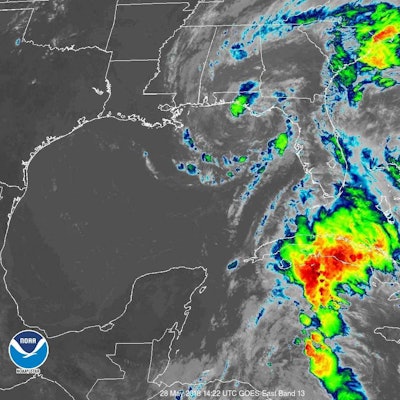 The Federal Motor Carrier Safety Administration this weekend issued an emergency declaration that suspends hours of service regs for truckers hauling relief loads and emergency supplies to states in the potential path of Subtropical Storm Alberto, which is expected to make landfall on the Florida panhandle late Monday.
The declaration applies in Florida, Alabama, Mississippi, Louisiana, Arkansas, Tennessee and Texas, and it will last "for the duration of the emergency," or until June 27, whichever is earlier.
Covered by the temporary waiver are, drivers "providing direct assistance supporting emergency relief efforts transporting supplies, equipment and persons into or from the affected states or providing other assistance in the form of emergency services during the emergency resulting from the storm," it states. Drivers hauling fuel products to the affected areas are also covered by the waiver.