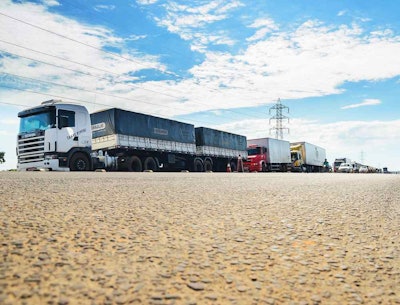 Embed from Getty Images
Though tensions among truckers in Brazil involved in a nationwide shutdown have eased some in recent days, the country's driver force has sparked a nationwide wave of protests by residents angry at the country's government. Brazil's truckers initially struck over high fuel costs, taxes and tolls.
The protests began earlier this month. More than just a shutdown, the drivers took somewhat extreme action: Teams of truckers blocked major highways around the country, bringing the South American nation's economy to a screeching halt and depriving many in Brazil of necessities like food, water and medicine. According to reports, supermarkets began rationing food, and the government urged residents to limit water use.
This report from The Guardian details the massive impact the strike and roadblocks have had: Millions of chickens and pigs left dead at farms due to lack of feed deliveries, airports and gas stations running out of fuel and factories grinding to a halt as raw material deliveries ceased.
The Brazilian government ordered the country's military to break up the protests, with limited success, particularly as the truckers' strike sparked other protests calling for the overthrow of the country's government, centered on charges of public corruption and a lack of public services, according to this report from Al Jazeera.
Read more on Brazil's trucker strike and its impact at the links below.
The Washington Post: Brazilian leader bows to truckers' demands, but strike continues to cause chaos
The New York Times: Truckers' Strike Paralyzes Brazil as President Courts Investors
Al Jazeera: Brazil protestors aim to overthrow Temer government
The Guardian: Brazil faces calls for return to military dictatorship amid truckers' strike