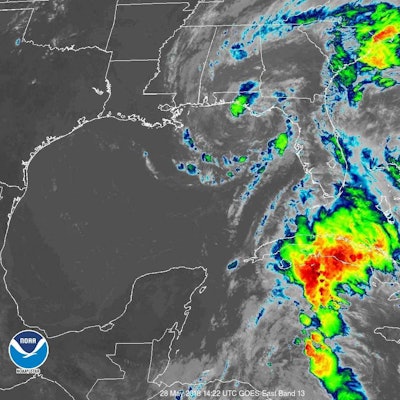 North Carolina Gov. Roy Cooper declared a state of emergency Wednesday for portions of the state in response to flooding, road closures and landslides in parts of the state as a result of Subtropical Storm Alberto.
With the declaration, truckers "bearing equipment and supplies for utility restoration and debris removal, carrying essentials such as food and medicine, and transporting livestock and poultry and feed for livestock and poultry through North Carolina highways" are temporarily exempt from hours of service regulations.
Affected North Carolina counties include: Alexander, Alleghany, Ashe, A very, Burke, Buncombe, Cabarrus, Caldwell, Catawba, Cherokee, Clay, Cleveland, Gaston, Graham, Haywood, Henderson, Iredell, Lincoln, Jackson, Macon, Madison, McDowell, Mecklenburg, Mitchell, Polk, Rowan, Rutherford, Stanly, Swain, Transylvania, Union, Watauga, and Wilkes.
The exemption is good for 30 days, or for the duration of the emergency, whichever is less.
Earlier this week, FMCSA suspended hours regulations in seven other states in response to the storm.