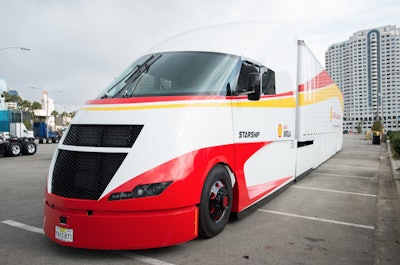 Shell Lubricants and Airflow Truck Company announced the results of the Starship Initiative demonstration run, a six-day, 2,410-mile trip along Interstate 10 from San Diego to Jacksonville, Fla. While the Starship's fuel economy averaged 8.94 mpg, it achieved a freight ton efficiency average of 178.4 ton-miles per gallon, a 248 percent improvement over the on-highway Class 8 industry average of 72 ton-mpg.
Although mpg is a commonplace metric, it doesn't tell the whole story, said Shell Lubricants' Bob Mainwairing, technology manager for innovation and Starship Technology lead. "If you are obsessing about increasing mpg, that motivates a story of 'Go slow, go light' – fewer goods transported means a lighter vehicle and better fuel economy. As a better alternative, we use freight ton efficiency because it assesses the amount of fuel required to move an amount of goods between A and B with the theory of 'Go slow, go heavy.'"
Starship designer Bob Sliwa, owner of Airflow Truck Company, incorporated a host of design elements to lower vehicle weight, including a carbon-fiber tractor body and hood and Bridgestone Ecopia wide-base single tires. But Sliwa said the addition of aerodynamic devices, roll cage tubing, trailer-mounted solar panels and other components to improve fuel efficiency bring the Starship tractor-trailer in at a conventional weight of 33,100 pounds.
The Starship carried a 39,900-pound payload of reef material for a conservation project off the Atlantic Coast. Shell worked with the North American Council for Freight Efficiency to verify the accuracy of the results using telematics data and an observer who followed the Starship during its run and calculated fuel consumption at the pump. Mike Roeth, executive director of NACFE, said the 73,000-pound GVWR made the Starship fuel economy demonstration run was unique.
"There aren't a lot of industry benchmarks at high weight," Roeth said."[Shell Starship] carried a much heavier load than many average truckers on the road carry, traveled a longer route in an uncontrolled environment with a variety of technologies not tested in these real-world conditions."
NACFE used an estimated 57,000-pound GVWR/22,500-pound payload on-highway Class 8 average for comparison purposes. "Every 10,000 pounds of freight loses a half mile per gallon in fuel economy, but while you lose mpg you gain efficiency. I think the Shell Starship demonstration helped bring freight ton efficiency to light."
Carlos Maurer, Shell Lubricants America president, said if all 2 million trucks in the United States could achieve the same freight ton efficiency as the Starship, it would result in a reduction of 229 million tons of CO2 per year, a 60 percent drop from current levels.
"We believe there is an energy challenge and there isn't any single solution that is going to accomplish the goals needed to get through this energy transition," said Megan Pino, Shell Rotella global brand manager and Starship Initiative team leader. "This is one idea, and it is a good material example of what we can do today in order to realize some of these efficiencies and CO2 reduction improvements while still looking toward the future at any of the number of different technologies that are going to be needed down the road."