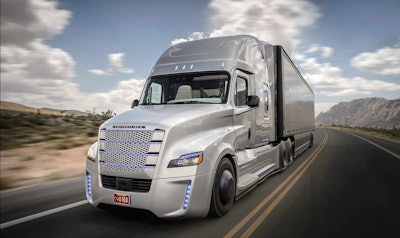 Daimler Trucks plans to open an Automated Truck Research and Development Center at its Swan Island, Oregon, headquarters, the company announced last week.
The new research development will join a full-scale heavy-duty truck wind tunnel on Swan Island and the High Desert Proving Grounds nearby in Madras, Oregon.
The new center will be dedicated to developing automated driving technology and understanding its impact on society and benefits to the industry. Engineers there will lean on resources from other Daimler Trucks locations in Stuttgart, Germany and Bangalore, India, stitching together a global network of engineers dedicated to automated driving.
"There are a lot of things Daimler cars is leading in automated driving, but it's not a copy and paste approach [from cars to heavy trucks]," says Peter Vaughan Schmidt, head of Daimler Trucks strategy.
Roger Nielsen, president and CEO of Daimler Trucks North America, says the company's goal is to deploy a fully integrated system.
"We can accomplish this with a combination of vehicle road testing over millions of miles around the globe and advanced simulation," he says. "The global collaboration that takes place among research and development teams at Daimler extends to vans, buses and passenger cars, and each advancement is a building block for the future of automated vehicles."
The new facility is part of a nearly $3 billion investment in total research and development activities over the next two years. More than $500 million of that is earmarked for e-mobility, connectivity and automated commercial vehicle technology.
The center will focus on all aspects of development, testing, and validation needed for high levels of automation, including software, sensors, machine learning, and simulation, as well as the necessary adaptation of the base vehicle platform.
Level 1 automation is already widely available with technologies like adaptive cruise control, and the wide adaptation of Level 2 technologies – like lane keeping solutions and automatic braking – are on the horizon.
Schmidt says the next automated horizon will bypass Level 3 and jump directly to Level 4, where a truck operates without human input under conditions determined by road type and/or geographic area.
Steve Nadig, DTNA chief engineer of mechatronics, says Level 4 autonomy needs the same equipment as level 3, so skipping Level 3 makes sense.
"We even think Level 4 is safer than Level 3," Vaughan Schmidt adds.
Read more on Daimler's planned automation research center at Overdrive sister site CCJ.