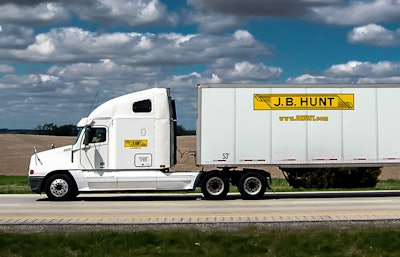 J.B. Hunt, one of the country's largest trucking companies, could be the latest carrier to be hit with a major payout to drivers from a much-derided federal court decision from 2014.
The U.S. Supreme Court on June 4 said it will not hear a challenge to a lawsuit brought by drivers against J.B. Hunt, meaning the case will head to trial later this year.
At issue in the suit are California's meal and rest break laws, which require employers to provide paid rest breaks to drivers and to allow them to take meal breaks. The 9th Circuit Court of Appeals in 2014 ruled in a prominent decision (involving Penske Logistics and its drivers) that carriers, even those operating interstate, must provide drivers the state-required breaks.
As reported by Overdrive last month, the 2014 decision created a wave of lawsuits from drivers against carriers operating in the state. The drivers often times have scored big settlements from carriers who did not comply with California's stringent labor laws.
Moves in Congress, none of which have succeeded so far, have sought to mitigate the effects of the 2014 Penske decision by attempting to pass a provision that reasserts the federal government's role in managing drivers' work schedules. The so-called Denham Amendment has popped up in various forms in recent years, though it has not been able to clear Congressional hurdles. Lawmakers in the House are attempting to attach the amendment to legislation before Congress currently.
The case against J.B. Hunt, Ortega v. J.B. Hunt, was originally filed in 2007. It's set to finally go to trial later this year. The class-action litigation seeks back pay for J.B. Hunt drivers who were not awarded meal and rest breaks by the carrier.