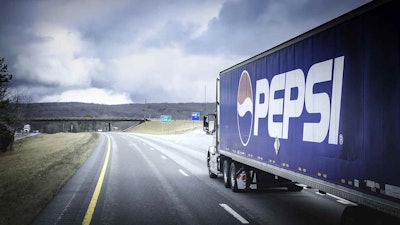 A federal court is set to consider a $5 million settlement proposed by California-based drivers for Pepsi's private fleet, which would pay 1,800 drivers an average of $1,988 to resolve allegations the company violated the state's break laws.
U.S. Judge Edward M. Chen will hear a motion from the plaintiffs on July 27 to certify the class and approve the $5 million settlement.
Pepsi subsidiaries New Bern Transport Corp. and Pepsi-Cola Sales are also named in the lawsuit.
Lead plaintiff Nathaniel Helton, a former New Bern driver, estimates 1,800 current and ex-company drivers were employed by New Bern at any point between January 25, 2013, and the date the court issues an order preliminarily approves settlement. After Helton filed his complaint in 2017, the parties underwent three all-day mediation sessions before reaching agreement May 30.
The settlement is the latest involving California's break laws, which require that employers provide 30 minutes for meals every five hours and 10 minutes for rest every four hours. The trucking industry largely operated outside of such state laws until a major court decision issued in 2014, involving drivers for Penske. The 9th Circuit Court of Appeals ruled that carriers, even those operating interstate and not based in California, must provide the state's mandated breaks to its drivers.
The issue has bubbled over in recent years, with carriers being hit with large court-ordered payouts for not complying with the state's laws, which are at odds with federal laws regulating drivers' work schedules.
Lawmakers in Washington have eyed reprieve for carriers, attempting to several times to pass the so-called Denham Amendment, which would block states from enforcing break laws for drivers and protect carriers from being subject to this type of litigation.