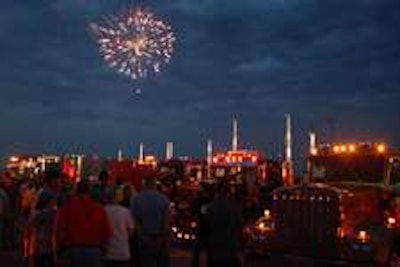 The American Pyrotechnics Association and its 53 member companies have received notice that they have been granted a limited exemption from the electronic logging device mandate for the Independence Day period this summer.
APA requested an exemption in April to allow its drivers to continue using paper logs during the July 4 holiday period since their operations would only require ELDs during this time of the year.
The exemption request noted that APA's members use drivers periodically during the year, particularly during the Independence Day season when the industry depends on short-term truck rentals. According to the request, 90 percent of the fireworks industry's vehicles are rented or leased for less than 30 days at a time.
The notice from FMCSA to APA, dated June 19, grants a limited waiver from the ELD mandate while FMCSA continues to work through the exemption application process. The waiver is effective from 12:01 a.m. on June 28 through 11:59 p.m. on July 8.
It allows drivers employed by APA member companies who stage fireworks shows for Independence Day to use paper logs instead of ELDs.