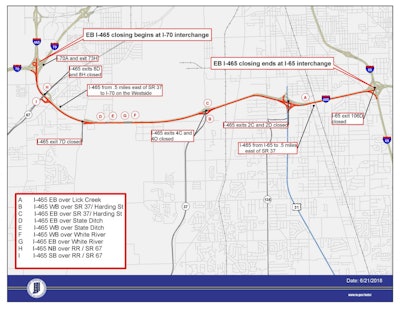 The Indiana Department of Transportation is planning partial closures for Interstate 465 on the southwest side of Indianapolis in September.
The closures will last for approximately 18 days to allow the completion of pavement and bridge repairs. INDOT says the closures will be between I-70 and I-65.
The project will include pavement removal and replacement and concrete bridge approach replacements on the interstate over Kentucky Avenue, State Ditch, White River and Harding Street. The project also includes bridge joint replacements and asphalt and concrete pavement patching.
INDOT says it will not close the eastbound and westbound sides of the interstate at the same time. One direction will be closed for approximately nine days, then reopen that side and close the other direction for another nine days.
The agency anticipates closing I-465 Eastbound at 9 p.m. on Sept. 14 and will reopen it on or before 5 a.m. on Sept. 24. It will then close I-465 Westbound from 9 p.m. Sept. 28 until on or before 5 a.m. on Oct. 8. I-65 and I-70 will serve as detour routes, INDOT says.