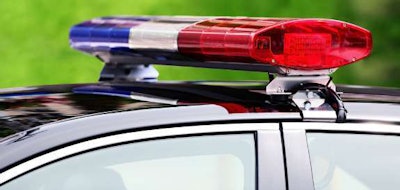 An owner-operator pulled over last month for speeding in Maryland was busted with a sizeable amount of drugs, according to a local news report.
Washington, D.C.-based WJLA reports Marco Popovich, 41, of San Diego, looked nervous when he was pulled over in the early morning hours of July 23 by the Maryland State Police for going 70 in a 55 mile per hour zone. The officer reportedly called for a drug-sniffing dog, which quickly found nearly 24 pounds of fentanyl, heroin and an "unknown white powder substance."
According to the report, drugs seized from the tractor-trailer included:
4,900 grams of heroin (four bricks)
1,950 grams of fentanyl (one brick)
3,790 grams of powder substance (two bricks)
According to the Drug Enforcement Agency, as little as two milligrams of fentanyl is enough to cause a fatal overdose.
Court documents posted to Twitter by WJLA reporter Kevin Lewis state Popovich is the owner of single-truck fleet Popovich Transport out of San Diego. According to the Federal Motor Carrier Safety Administration's Safety Measurement System, Popovich has had nine inspections with no out-of-service violations.
The report states Popovich could face up to 90 years in prison for charges related to possession of and possession with the intent to distribute heroin and fentanyl.
MORE: Police charged semi-truck driver Marco Popovich, 41, of San Diego, CA, with a variety of drug counts.

The Mexican native is now in MoCo custody on a no bond status. He's married with two children.

Authorities hope Popovich points them to the source of the deadly drugs. pic.twitter.com/NkeKVeL5Gj

— Kevin Lewis (@ABC7Kevin) August 3, 2018