The Women In Trucking Association (WIT) and Freightliner Trucks are seeking candidates for the 2018 Influential Woman in Trucking award.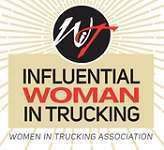 Created in 2010, the award honors female leaders in the trucking industry. Past recipients include Marcia Taylor, CEO of Bennett International Group; Rebecca Brewster, President and COO, American Transportation Research Institute; Joyce Brenny, President of small fleet Brenny Transportation, Inc./Brenny Specialized, Inc.; Rochelle Bartholomew, CEO of CalArk International; Kari Rihm, President of Rihm Kenworth; Ramona Hood, Vice President of Customer Operations, Transportation Logistics at GENCO, a FedEx company; and Daphne Jefferson, former No. 2 at the U.S. Department of Transportation with FMCSA.
"Across the trucking industry, we see women in ever increasing roles of importance and influence," said Kary Schaefer, general manager of marketing and strategy for Freightliner. "Women in Trucking provides the network and structure needed to foster and promote this continuing diversification. Freightliner is pleased to be able to sponsor this award and to highlight the exceptional female leaders that help shape our industry."
Now in its eighth year, the award recognizes women who make or influence key decisions in a corporate, manufacturing, supplier, owner-operator, driver, sales or dealership setting. The winner must have a proven record of responsibility and have mentored or served as a role model to other women in the industry.
"The Influential Woman in Trucking Award honors female leaders who have been advocates and role models to others," said WIT President and CEO Ellen Voie. "Since the inception of this award, we have seen extraordinary women recognized."
Nominations will be accepted through September 1, via this link. The winner will be announced at a WIT conference in Dallas in November, where finalists will be asked to participate in a panel discussion around issues.