Spot market rates have continued to follow somewhat typical seasonal trends this summer, albeit with rates about 25 to 30 percent higher than a year ago. Rates often hit something of a summer doldrums after the June peak, and the markets did soften in July. But prices may have turned a corner last week, with van rates holding steady on higher volumes in key markets like Atlanta, Los Angeles and Houston.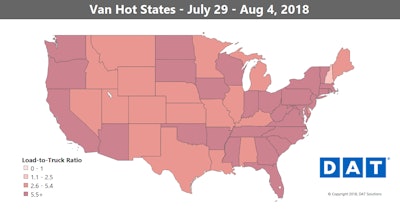 Hot van markets: Seattle and Buffalo, N.Y., made big gains last week, with outbound rates up 4 and 6 percent respectively. On a lane-by-lane basis, all the big increases were on trips in and out of Buffalo. For instance, the average van rate on a lane from Chicago to Buffalo rose 33 cents to $3.33 per mile, while the reverse trip from Buffalo to Chicago also added 15 cents at $2 per mile on average.
Not so hot: Big declines are still happening in various markets around the country, though, in keeping with typical seasonal trends. Outbound rates fell from Memphis, Dallas and Charlotte. Prices on the lane from Memphis to Dallas fell the most, losing 21 cents at an average of $2.69 per mile.
Produce harvests are down compared to last year, but volumes started to recover in early August, with reefer load counts up sharply in California, Texas and the Midwest overall.
Hot reefer markets: Rates were up out of Green Bay, Wis., and Miami, but Miami prices are still down 24 percent in the past month. California could start to make some gains in the coming weeks. One place where produce hasn't fallen below last year's pace is New Jersey. Harvests there helped push reefer rates on the lane from Elizabeth to Boston up to a near-record price of $4.75 per mile.
Not so hot: Lemon harvests in Mexico have disappointed this season, which has led to fewer shipments coming across the border. That's hurt outbound rates out of Nogales, Ariz.