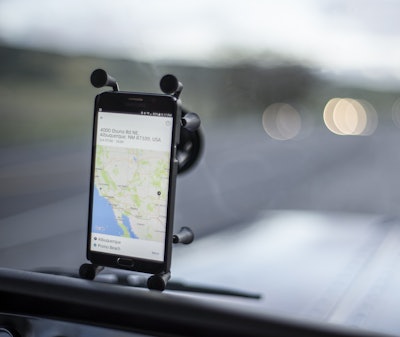 About 15 months after tech giant Uber entered the trucking industry with its Uber Freight platform, the company this week took a pivotal step in closing the gap toward a true automated freight-matching system: It opened the platform up to shippers, allowing them to post loads and match with carriers to haul those loads.
To this point, the platform has only been open to carriers, mostly small independent carriers, while the loads posted to the system were from shippers that the company had partnered with to get the platform up and running.
"We knew drivers were the most important piece of the puzzle," said Bob Chappuis, senior operations manager for Uber Freight. "We knew we had to market and approach drivers first, but now we feel like we have enough density in the driver platform that we can make that platform useful to shippers as well." Chappuis and Uber Freight's community lead Greg Murphy spoke about the program at the Great American Trucking Show on Thursday.
Chappuis says with the expansion of the system streamlines the load booking process, allowing all of the "touch points" between shippers and carriers to take place within the Uber Freight platform. Instead of phone calls to negotiate a rate, faxes back and forth for contracts and bills of lading, shippers reaching out to know the load's ETA, all of these processes can be done in the app, says Chappuis, a former broker with Coyote Logistics. Rate prices are set via Uber's algorithm, and shipments can be tracked in real-time. Also, the app organizes and stores documents like bills of lading automatically.
The company doesn't have a goal for shipper sign-ups, but it expects the rapid growth that Uber Freight has seen over the past year to continue. Uber said last month that the load volume in its system has doubled every quarter since it launched, though the company keeps information about the number of loads and drivers proprietary. Uber Freight initially launched in March 2017 started as a regional platform, aimed only at independent owner-operators. Now, the company has nationwide reach and has opened its doors to a broader set of carriers.
Uber Freight this week held its first Carrier Advisory Board meeting in Dallas in conjunction with the Great American Trucking Show, designed to provide the company feedback on the platform from the perspective of those using it in the real world, says Murphy.
The company in March announced a new rewards and discount program, Uber Freight Plus, for truckers who use the program. Plus provides discounts on expenses like tires and fuel as a means to reward its current drivers and incentivize other operators to join.