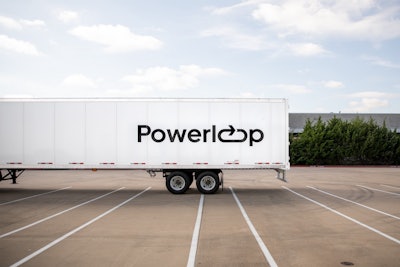 Uber announced Wednesday a new venture, Powerloop, designed to work partly in tandem with the company's freight-matching system Uber Freight. The company is an affiliate of Uber Freight and is owned by Uber Technologies.
Powerloop at its core is a trailer leasing program, with trailers rented to participating carriers at $25 per day. But in effect it creates what the company bills as a trailer pooling program, allowing fleets, especially smaller carriers like owner-operators, access to pre-loaded trailers in the Powerloop network. The primary goal, the company says, is to cut detention time at shippers and receivers. Instead of waiting to load and unload a dedicated trailer, Powerloop envisions an expedient drop and hook system.
The system will initially be focused only on intrastate loads in Texas, but the company plans to expand beyond Texas in the coming months, says Max Pike, strategy lead at Uber Freight.
Also initially, the loads will be tendered in a more traditional method, with Powerloop representatives working as brokers between shippers and carriers for the pre-loaded trailers within the Powerloop network. Pike says the system will become "increasingly automated" over time. The loads could eventually be put on to the Uber Freight platform and available in the app, but only for carriers who are part of the Powerloop network.
Rates for the loads will be determined by Uber's pricing algorithms, based on metrics like capacity, load demand and seasonality, among other factors.
Pike says there are "a number of Fortune 500 companies" already participating on the shipper side, including Anheuser-Busch.
Kofi Asante, a Powerloop product strategist, said one of the larger benefits of the Powerloop system is that it provides carriers with roundtrip loads. Most power-only loads are only one-way hauls, he notes, but Powerloop will ensure that drivers have a return load after dropping their inbound trailer.
Operators interested in registered for the program can do so at UberFreight.com/powerloop.