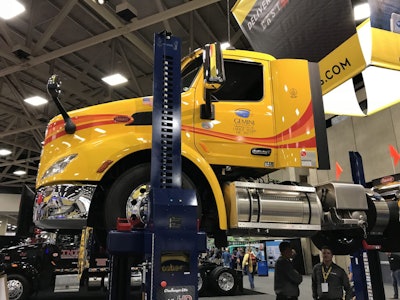 Love's Travel Stops, since acquiring Speedco on Nov. 1, 2017, has expanded its over-the-road tire and preventive maintenance network to be the largest in the nation, according to Dan Jensen, Love's director of tire sales and service.
Jensen says the company now offers 340 locations that offer either tire or preventive maintenance services with 280 of those offering oil changes.
"Before the acquisition, Speedco was mostly oil changes and preventive maintenance," Jensen said Thursday at the Great American Trucking Show. "We've now added tire offerings at those locations and are rolling out putting mechanics at all locations for light maintenance."
Jensen says its maintenance services include work on belts and hoses, lights, air conditioning, minor electrical, wheel ends and brakes and more. He adds that they don't work on engines or transmissions.
In order to staff the 340 locations with mechanics, the company launched a mechanic apprentice program that gives prospective mechanics the change to train under certified mechanics. If they stay with Love's for at least a year after completing the program, Love's will pay for the former student's tools and toolbox. Jensen says more than 100 people have been through the program so far and many have stayed with the company.
Love's is also expanding its tire offerings at its Love's Truck Tire Care locations that are available at any of the chain's travel centers. Brand offerings include Micheline, BF Goodrich, Bridgestone, Dayton, Kelly, Yokohama, Love's retreads and more. The company's retreads are Oliver Retreads, which are a division of Michelin. With the addition of retreads, Jensen says Love's is now a one-stop shop for tires by selling new tires and retreads and offering maintenance on tires.