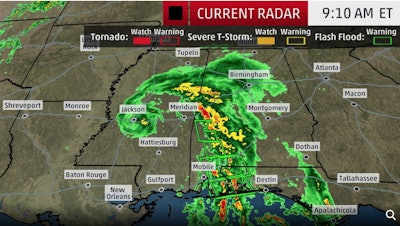 Gordon is now a Tropical Depression with max sustained winds of around 35 mph. Our live coverage continues throughout the storm. pic.twitter.com/hqYbrLM6hq

— The Weather Channel (@weatherchannel) September 5, 2018
The Federal Motor Carrier Safety Administration's Southern Service Center has declared a state of emergency in seven Gulf Coast states that are being affected by Tropical Storm Gordon, allowing carriers and drivers providing direct assistance to the affected areas to operate outside normal hours of service regulations.
The declaration is in effect for Florida, Alabama, Mississippi, Louisiana, Arkansas, Texas and Oklahoma through Oct. 4, or until the emergency no longer exists, whichever is less.
By operating under the exemption, carriers and drivers hauling relief supplies, equipment, fuel and people into the affected areas can exceed normal on-duty and driving limits, only while providing direct assistance. The exemption ends as soon as a vehicle is used in interstate commerce to transport cargo or provide services not directly supporting the emergency relief effort.
Additionally, if a driver tells a carrier he or she needs rest, the carrier is required to allow the driver to take at least 10 consecutive hours off-duty before he or she can return to work.
The storm made landfall Tuesday night along the Gulf Coast and, as of Wednesday morning, has weakened to a tropical depression. Heavy rain and flooding are the biggest threats to the affected states.