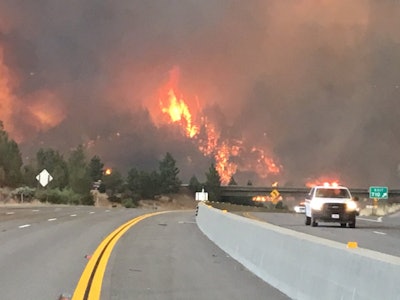 Update, Sept. 10, 6 a.m. PDT: I-5 remains closed in the areas mentioned in the original story below.
Both north- and southbound lanes of a 45-mile section of Interstate 5 are closed in Northern California as of Thursday morning due to a fast-spreading wildfire in that part of the state. What's more, according to reports from Fox News and the Los Angeles Times, truck drivers were forced to abandon their trucks on the highway as the explosive fires swept toward them. See the video above, posted by ABC 7 out of San Francisco.
According to California's DOT, the I-5 closures in the northbound lanes begin at Exit 689, the Fawndale Road exit, about 10 miles north of Redding. Southbound closures begin at Exit 734, the Mott Road exit, north of Dunsmuir, California.
According to a Fox News' report, 17 tractor-trailers were abandoned, and several caught fire. Posts on Twitter show burned-out rigs smoldering on the highway.
The California Department of Transportation said on Twitter last night there is no estimated time for reopening the Interstate and told drivers they must seek an alternate route.
A report from The Weather Channel's Weather.com said the so-called Delta Fire "tripled in size overnight." This fire was started Wednesday, though others have been ongoing in that part of the state for several weeks.
A couple trucks that burned up in the #DeltaFire remain burning on I-5. pic.twitter.com/RSkJmfM0tY

— Damon Arthur (@damonarthur_RS) September 6, 2018
Trucks abandoned as California wildfire shuts down I-5 https://t.co/KeTZ4YLyJW

— Fox News (@FoxNews) September 6, 2018