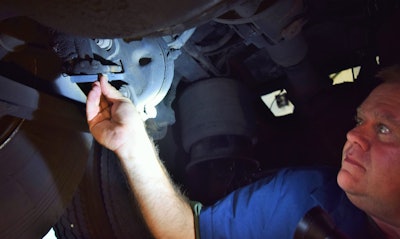 Previously in this two-part story:
Tennessee is one of five states scoring top-10 rankings for the intensity of its truck enforcement focus on bedrock equipment safety such as tires and brakes, whose failure can be catastrophic.
Unique among these and other states with an above-average focus on vehicle-related violations, which contribute points to the Vehicle Maintenance BASIC category of measurement in the CSA program, Tennessee comes in dead last with its low percentage of violations for light-related infractions.
There's a good side to that, suggests Capt. Brandon Douglas. Tires and brakes, safety- sensitive items, are "what we should be focused on, making sure trucks are traveling down the road safely."
Among the relatively few light-related infractions written in Tennessee, about two-thirds were for the catchall Code of Federal Regulations 393.9(a), which states that all required lamps should be operable. That's also generally the most common light violation in most states. More than half of the remainder of the light violations were written for brake lamps being inoperable.