Kenworth's assembly plant in Renton, Wash., recently celebrated its 25th anniversary. Kenworth employees and their family members marked the anniversary in conjunction with Kenworth Family Day held at the plant, drawing more than  1,300 people all told.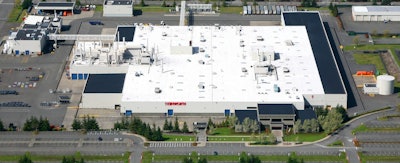 Among other accolades over its quarter century of operation, in 2000 Fortune magazine recognized the Renton plant as one of "America's Elite Factories," and the plant received Assembly Magazine's inaugural "Assembly Plant of the Year Award" in 2004. A year later, the plant produced the 700,000th Kenworth truck in company history.
Over 25 years, the Renton plant has produced more than 144,000 Kenworth trucks. The plant currently produces the T680, T880, T800, W900, C500, K500 and 963 models, along with medium-duty T370s and T440s. Nearly 20 percent of the plant's current employees have been working for Kenworth since the plant opened.
This year marks Kenworth's 95th anniversary. Kenworth has manufactured trucks in the Seattle area since its inception in 1923. The inaugural Seattle plant produced 78 six-cylinder, gasoline-powered trucks. That plant was in service until 1929, when a new plant was built at Yale Avenue and Mercer Street in Seattle and operated until 1946. The company moved its manufacturing to East Marginal Way in South Seattle, and built Kenworth trucks there for more than 50 years.
"Kenworth – Renton continues the company's amazing legacy of making excellent Kenworth trucks in the Seattle area for the past 95 years," said Bart Hoemann, plant manager.