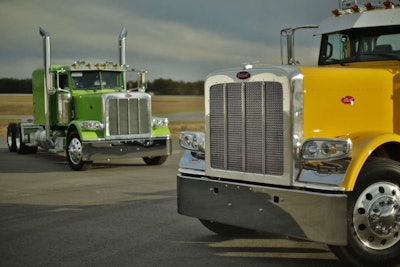 A rule that would have repealed Obama-era emissions placed on glider kit manufacturers has been stripped from the Environmental Protection Agency's regulatory calendar, casting doubt on whether the rule will be finalized.
Proposed by EPA in November, the rule sought to remove the 300-truck annual production cap placed on glider kit builders by 2016's Phase 2 tractor-trailer emissions regs.
The rule would allow glider kit manufacturers like Fitzgerald Glider Kits and Harrison Truck Centers to return to business as usual. However, glider makers have been caught in regulatory limbo this year, with the EPA seemingly on the verge of finalizing the repeal despite the 300-truck cap that took effect in January.
EPA spokesperson Molly Block told Overdrive on Thursday the agency is working "on providing certainty to the glider industry," but that EPA "has yet to determine the most appropriate path forward." Block said the agency could not clarify whether it will continue to pursue the rule proposed last November.
Block also would not say whether the controversies surrounding two competing studies on glider kit emissions, which reached contradictory conclusions and have come under scrutiny over ethics concerns, played a role in the EPA's decision to remove the rule from its regulatory calendar. (Read more on the questions surrounding the studies at this link.)
Glider kit trucks soared in popularity over the past decade, particularly among owner-operators and small fleets, due in part to their use of pre-emissions-control engines. Generally less expensive than new trucks with new engines, gliders are new truck bodies and chassis equipped with remanufactured engines and transmissions. Glider engines usually lack EGR or SCR systems, nor do they have a DPF filter.
In its Phase 2 rule, EPA sought to halt the growth of the glider business, with EPA officials arguing that gliders increasingly accounted for an outsized share of particulate emissions and greenhouse gases.
Operators who choose to build a glider for themselves are still free to do so.