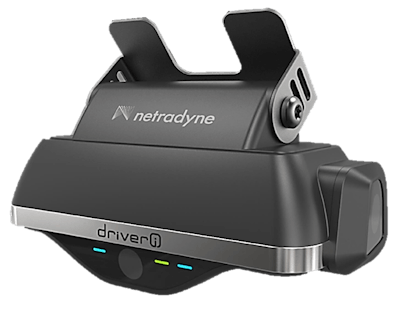 The Netradyne company announced that its always-on, dual-view-capable Driveri smart-camera system and "driver recognition safety program," previously profiled in Overdrive's multipart 2017 "Fatigue's Fast Track" investigation of the bloom of technology around fatigue monitoring, has captured and analyzed over 100 million minutes of driving video data. The analyzed data is increasingly driving new feature development for the company and laying groundwork for Netradyne's role as "a crucial contributor for next-generation autonomous vehicles," the company says as it turns three years old.
"Our team is thrilled to have generated such a deep resource of contextualized data so quickly," said company CEO Avneesh Agrawal. "We are grateful to have such an incredible customer community that finds value in Driveri through the power of positive recognition and fleet safety."
It's not all truck driving minutes that the company is capturing. Driveri customers also include passenger vehicle ride share operators, luxury limousine services, vans and pick-up trucks, utility vehicles and last-mile delivery, freight and heavy-duty trucking. A point of commonality amongst this group is that they each leverage the Driveri platform for a complete view of their operations, including identifying excellent driving practices, a chief element of Netradyne's pitch to the trucking industry since its founding, and the more traditional use of cameras to identify areas for performance coaching.
Increasingly, the company says, it's branching into other areas with technical analysis of customer data:
Driveri Deep Learning: Netradyne's system purports to actively "learn" during trips, capturing road signage, traffic, and unique driving patterns and environments to continually improve performance overall.
Insurance: Partnering with insurance carriers and actuarial partners to use data to "enhance rating and underwriting accuracy as carriers tailor rates and coverage to a fleet's actual risk profile."
Driver Signatures: A comprehensive view into a driver's performance, including metrics like the number of GreenMinutes (positive driving minutes), average following distance and compliance to traffic signs.
RiskMaps: Visualization and mapping of geographic risk factors.
Dynamic High-Definition Roadway Maps for Autonomous Vehicles: This allows the company to partner with global OEMs and Tier 1 suppliers engaged in the research and development of autonomous vehicles.