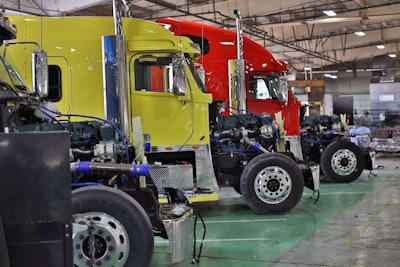 Tennessee Tech University says that conclusions reached in a 2017 study conducted by the school into emissions of glider kit trucks are "inaccurate."
The study, funded by Fitzgerald Glider Kits, erroneously concluded that glider kits "perform equally as well and in some instances out-perform OEM engines" in terms of emissions of greenhouse gases and particulate matter, says a letter from Trudy Harper, TTU Vice Chair of the Board of Trustees.
Harper filed letters Oct. 23 to the U.S. Environmental Protection Agency, U.S. Rep. Diane Black and Fitzgerald announcing completion of the school's inquiry into the study, which began in February.
The study was filed to EPA last year in support of a rule to overturn regulations instituted in 2016 that limit the production of glider kit vehicles to 300 trucks a year per builder. Those regs are still in place, and EPA's rulemaking to overturn them has been seemingly sidelined. TTU in February told EPA to ignore the study's conclusions until the school completed its investigation.
Questions were raised by TTU faculty about the study's conclusions due to Fitzgerald's financial relationship with the university, which were deemed a conflict of interest, as well as the methodology of the research.
Harper's letter did not address Fitzgerald's financial relationship with the school, but she said the methodology of the research was "sound." However, after reviewing the research, the school "determined that the data does not support the statement that" the remanufactured engines used by Fitzgerald in its glider builds produce the same or fewer emissions than new engines, Harper wrote.
Four members of the U.S. House this month asked the U.S. EPA to investigate the agency's use of the study.
The EPA has already launched an inquiry into another 2017 study regarding glider kit emissions. That study found that gliders do produce higher levels of GHG and particulate matter emissions than new engines, but it, too, was clouded by ethical questions. EPA staffers were accused of having improper contact with Volvo Trucks during the study. Volvo is a proponent of limiting production of glider kit trucks, as are Daimler Trucks and Cummins.