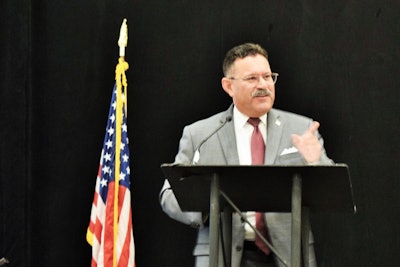 "The winds of change" are afoot at the Federal Motor Carrier Safety Administration, said FMCSA chief Ray Martinez in his opening keynote at the annual conference of the National Association of Small Trucking Companies November 1. The three-day event is ongoing in Nashville, Tenn.
Leadership at the Department of Transportation on up to the president of the United States, he added, "[want] us to work with the regulated community," going on to emphatically validate an oft-repeated statistic among the small-fleet and owner-operator community. "I recognize and respect the fact — and this is a fact," Martinez emphasized — "that 90 percent of the trucking industry is represented by carriers with 10 or fewer power units. … It may not have been recognized in the past, but I can tell you it is loud and clear in our offices today."
As Overdrive has reported previously, when considering the number of companies that make up for-hire trucking, that percentage is probably close to accurate. Consider total power unit counts controlled by fleets in the for-hire trucking population and recent estimates show the percentage is likely ultimately a great deal smaller.
Martinez's address otherwise was a round-up of a variety of potential regulatory changes that are in process. Regular readers of Overdrive will be familiar with all of them, including the current status of the implementation process of the electronic logging device mandate and the sunset scheduled in December of 2019 of previous-generation e-logs, otherwise known as Automatic Onboard Recording Devices. The administrator touched on the agency's proposal to establish a pilot program for under-21 CDL drivers with military training; petitions aimed at establishing federal pre-emption of state wage and hour laws around meal and rest breaks (aimed primarily at California's rules); the future of automated vehicles; the pilot program for scrubbing a variety of clearly nonpreventable crashes from carrier data that underpins the CSA program; and more.
Hear his address in full here:
Martinez also touched on the recently closed comment period on the agency's Advance Notice of Proposed Rulemaking on hours of service flexibility. During the question-and-answer period, the administrator responded to a question about hours-change progress with some thoughts that suggested the agency might be able to get through its process toward making an actual proposal for change within the next year.
Having received earlier in the program an open invitation from NASTC President David Owen to return to the NASTC event next year, he told the conference attendee, "I'm coming back next year, so if you don't like what comes out of the sausage factory" in terms of a new hours rule, "take it up with me then."
"I may have just backed myself into a corner," he went on to quip, but it's no secret the agency has put potential hours change on a fast track; Martinez also addressed this in his speech, though he didn't commit to even moving forward with the actual next step, a notice of proposed rulemaking. Whether the agency proceeds depends on the deliberative process ongoing, with FMCSA currently reviewing the more than 5,000 unique comments that came in from industry participants.
Another line of questioning during the Q&A period with Martinez centered on CSA as well as the agency's current compliance review/audit/safety rating program, about which both NASTC President David Owen and transportation attorney Hank Seaton presented questions.
In a "Road Ahead for Small Carriers" seminar earlier in the day, Seaton laid out the Motor Carriers Regulatory Reform Coalition's proposal for desktop audits every two years for all carriers in the nation. Such an approach, offered as part of the DOT's broad regulatory review request from last year, runs counter to the direction of the reliance on roadside data currently being pursued in the revamp of the CSA program.
NASTC's Owen asked Martinez to consider the desktop-audit idea as a means to ensure that small carriers, particularly owner-operators, receive ratings within the program. Seventy-five percent of NASTC members, Owen told Martinez, "never get rated. … What you may not realize is we really want to be rated. There was a movement a few years back among the insurance companies and shippers to not to offer A-rated freight to unrated carriers."
The individual audits would be akin to what happens during a New Entrant audit today. It's particularly prescient in light of the difficulty of obtaining enough roadside data to actually result in a reliable safety score in any big-data-based scoring model, Seaton emphasized.
Biannual desktop audits would offer a measure of fairness in the rating system that just doesn't exist today.
"The current system is somewhat unfair on multiple scores," Martinez said. "I think desktop audits could be much less labor intensive, and could be a way to go."
Other NASTC meeting happenings
Events surrounding the opening keynote included an 80th-birthday celebration for and lifetime achievement recognition presented to well-known and longtime driver booster and motivational speaker Dan Baker, who was also roasted by trucking economist Donald Broughton ahead of Martinez' speech.
Broker of the Year
At the event, Owen also named NASTC's annual "Best Broker" honoree, Roar Logistics. Bob Rich III, president of the company, in accepting the award pledged to do everything in his power to be the "broker of choice" for small carriers. "We are going to place NASTC carriers first," he said. "Our reputation relies on you guys delivering the goods, so we're going to pay you faster … without fast-pay fees."
"The huge change that's coming is not autonomous trucks," said Owen, but "the difference in the way we're going to move freight. … The pressure on truckload long-haul carriers to keep their drivers is the biggest deal. Our best brokers have figured that out."
"You guys are our carriers of choice," Rich added.
Transportation Person of the Year
Owen presented this honor to Ellen Voie, founder of the Women in Trucking organization, founded with a goal of increasing the percentage of women employed in trucking.
"In the driver population," Owen said, the percentage of women behind the wheel of Class 8 trucks has "probably doubled within the last 10 years," the extent of WIT's history.
Voie put the current percentage at 8 percent. "Every years," she said, "we see more and more women coming in, and we need even more. Eight percent is not enough."
Women in Trucking will host its fourth annual Accelerated! Conference and Expo November 12-14 at the Embassy Suites by Hilton Dallas Frisco Hotel Convention Center & Spa.