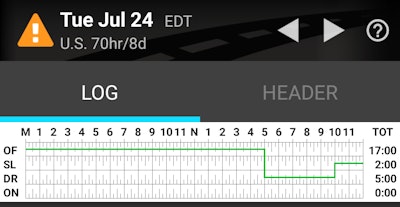 FMCSA's invitation for comments on how, or even if, it should proceed with a rulemaking to change hours of service regs that govern truck drivers' work schedules ended Oct. 10, and comments poured in during the 45-day period to address a regulatory pain point nearly all facets of the industry have coalesced around in recent years.
Admittedly, it's a daunting task to wade through the more than 5,100 comments filed on the Advanced Notice of Proposed Rulemaking, making it difficult to capture the key themes that will emerge from those comments. However, comments filed by major trucking trade groups — representing fleets, owner-operators, enforcers and others — and a sampling of driver commenters could offer some insight into those themes.
The agency sought feedback on myriad of questions surrounding the 14-hour rule, 30-minute break and split sleeper berth options, as well as whether short-haul drivers' on-duty allowance should be extended from 12 hours to 14 hours.
As noted throughout Overdrive's coverage of the listening sessions, as well as the agency's own reasoning as to why it opened the public comment period, the press for hours of service reforms centers on one word: Flexibility.
As noted by commenter and owner-operator Scott Hampton of Hampton Trucking: "Flexibility is the common-sense answer." He advocated for an end to the 30-minute break and straight 14-hour clock. "If I stop for 2 hours and wait out the traffic, which is what I would prefer to do instead of driving in rush hour traffic, drive a few more hours to my destination [or] a safe parking spot, then be [allowed] to use those two hours as part of my 10-hour break. Meaning an 8 hour off-duty would complete the 10-hour break. So being able to split the 10-hour off duty time, be it 1/9, 2/8, 3/7, 4/6 or 5/5."
Operator Lee Jensen of Jensen Transport concurred."I think the 14-hour rule causes entirely too much stress on most drivers and myself," he said. "When I am stuck at a shipper/receiver I cannot take a break. I have to pay attention, so I don't miss my turn. Once I am finished at the shipper/receiver I am tired from waiting several hours. I have to make a choice do I want to cut into my remaining time of driving and not make as much money or do I want to take the safe choice and take a nap. I should not have to make that decision. I should be able to take a nap and then drive my 11 hours driving. I should also not have to make the choice about driving through rush hour. Years ago, I would stop and wait until rush hour was over, usually that was a good time to take a little nap. That is not a choice I have any more. I have to drive through rush hour making it even more congested; making my day more stressful."
The genesis of FMCSA's call for comments was in part due to a requests filed by OOIDA and TruckerNation, who both petitioned FMCSA with plans for an hours overhaul. As covered here at the onset of the comment period, OOIDA hopes to see the 30-minute break nixed and the allowance for drivers to pause their on-duty 14-hour clock for up three hours, so long as they take a full 10-hour break at the conclusion of their 14-hour on-duty time.
TruckerNation, meanwhile, has advocated for a return to split-sleeper berth options available before the 2003 hours rewrite. They asked FMCSA to allow drivers to use their 10-hour off-duty period in increments of their choosing over their 14-hour on-duty time. In a 24-hour period, a driver would still be limited to 14 hours on duty and be required to take 1o off-duty hours. But neither would have to be taken in blocks, as they are now.
Both groups filed comments supporting their petitions.
Relative to the four specific areas of interest in FMCSA's request for comment via the ANPRM, OOIDA said it supports extending short-haul drivers' on-duty time to 14 hours, supports removal of what it calls the "needless and unfounded" 30-minute rest break and supports allowing split-sleeper berth flexibility.
"It makes far more sense to allow alert drivers to leave their sleeper berth and begin to drive with the option to obtain additional rest later in the day," OOIDA writes, rather than forcing drivers to idly wait for their driving clock to begin again, which can essentially cause a driver to drive when tired and rest when alert."
The American Trucking Associations leaned hard on using data from electronic logging devices to make a determination on hours of service reforms. "…Industry data on HOS flexibility should be at the center of HOS revisions," ATA wrote. It says it supports review and clarification of guidance regarding the adverse driving conditions exception that drivers can use to extend their 14-hour clock when they encounter weather or congestion.
"The current definition and corresponding guidance creates confusion with drivers, carriers, and enforcement—thereby discouraging its use even in circumstances where it was intended to apply—and should be clarified so it can provide effective flexibility," ATA wrote.
It also says it supports a review of the 30-minute break rule to determine "situations where [it] may not be necessary" and to determine whether the break can be used as on-duty, non-driving time. Relative to split-sleeper berth options, ATA says the agency should complete its planned study first and let the study's results dictate any changes.
ATA dismissed the plans suggested by OOIDA and Trucker Nation, arguing both groups "failed to provide data" to support their proposals.
Comments by Western States Trucking Associations, filed by WSTA's director of governmental affairs Joe Rajkovacz, says the agency has "a meaningful opportunity to grant both regulatory relief and increase flexibility for both drivers and motor carriers."
WSTA supports eliminating the 30-minute break requirement and adding split-sleeper berth options. "It is just common sense that a driver should be allowed to rest when they are tired and not be concerned about 'beating the clock,'" Rajkovacz writes. "Allowing more options for splitting sleeper berth time will allow drivers to avoid rush hour traffic by getting rest instead."
In his comments, driver Paul Burk advocated for split-sleeper berth options. "The 14-hour rule and 10 hours in a row off daily does not promote safety or profitability in my experience. It would be very nice to have 14-hour drive time and 10 hours off split up in 5 and 5 hours or 4 and 6 hours."
The trade group representing the enforcement community, the Commercial Vehicle Safety Alliance, says it has "no objection" allowing drivers an extension of the 14-hour clock when adverse conditions arise. "However, FMCSA should set a maximum of 16 hours," CVSA writes.
CVSA notes throughout its comments that changes should be dependent on ELD adoption.
CVSA says it supports eliminating the 30-minute break, calling it "difficult to enforce effectively, as the inspector has no way of verifying whether the driver was legitimately off duty during that time, or if they used the time to perform other work-related duties such as fueling, inspection, loading and unloading." The alliance previously petitioned, to no avail, that FMCSA remove the 30-minute break from the regulations.
CVSA says it opposes TruckerNation's request, but that it is open to FMCSA's consideration of OOIDA's.
Lastly, the Advocates for Highway & Auto Safety, a group usually in favor of a heavily regulated trucking industry, said it is against any changes to hours of service regs. "Advocates opposes this dramatic and unnecessary weakening of the HOS rules at a time when fatal truck crashes continue to increase and driver fatigue remains a substantial safety issue within the industry," the group writes.
—
The final hours of service listening session was held in Washington, D.C., the final day of the comment period, October 10. After dominating discussion at sessions at the Great American Trucking Show in Dallas and in Joplin at the Guilty by Association Truck Show, a relative few drivers and owner-operators were in attendance in person at the D.C. event.
Driver Tariq Robinson of D.C. expressed what so many have said about the 14-hour window in which to operate, that it happens to be the principle reason so many drivers are being coerced to begin with as carrier management pushes drivers to maximize their available hours within an arbitrary time limit. "Don't give us a window in which to operate," he said, "it's not safe."
Independent owner-operator William McKelvie, in some ways similarly, hammered on the point that the shift to electronic logging devices had exposed the reality that Robinson hinted at. "I keep hearing about data," he said, but "we don't run our trucks on data." He urged all in attendance, and the general public at large, to be willing to truly understand what drivers go through on the road.
"When we come here and ask you for an extended [on-duty] time to operate,'" McKelvie added, "we're not asking, as a lot of people have said, to 'cheat,' we're asking for you to give us the ability to take the breaks when we need to take them." Discretion to do so would restore the bedrock upon which any trucker's business is built, McKelvie noted, the ability to make the right, safe approach required on any particular day, given all the factors in play.
McKelvie also endorsed a notion put forward by owner-operator Brian Bucenell, then Director of Public Relations for TruckerNation, who revealed part of a survey of organization membership on the subject of coercion to violate the hours of service, a concern he said had been raised by some in the industry relative to increased flexibility in the regs. Such logic says that if drivers have more flexibility in how they split up and utilize their on-duty time, more might be coerced to violate the regulations, or drive when safety might dictate otherwise. Bucenell noted a member survey that showed such was already occurring with some frequency under current rules, despite the adoption of an anti-coercion rule in tandem with the ELD mandate.
Furthermore, FMCSA may not have an effective window into the reality given 80 percent of respondents who reported having at one time or another been coerced to run over hours didn't report the coercion via the avenues for doing so in FMCSA's home within National Consumer Complaint Database system.
"Ultimately, as an organization, we find this unacceptable," Bucenell said about the low percentage of reports of coercion, pledging to help FMCSA change those percentages and urging them to do more in the way of making it easier for drivers to report coercion, and to see the agency as a trusted partner in fighting the problem.
Executive Vice President of the Owner-Operator Independent Drivers Association Lewie Pugh, echoing some other commenters, offered the idea to include a variety of unforeseen conditions on the road as allowable under the "adverse driving conditions" exception, which he'd prefer be termed "unforeseen driving conditions" instead.
Also, "we've been an advocate for split sleeper berth since they took it away in 2003," Pugh added, referring to pre-14-hour-rule hours regs that allowed for a variety of sleeper splitting options that gave "flexibility for [dealing with] weather and time and traffic."
While "I don't think any of these proposals are a complete silver bullet," he said, Pugh went on to express belief that FMCSA is truly engaged and committed to making things better, and hope that that continues.