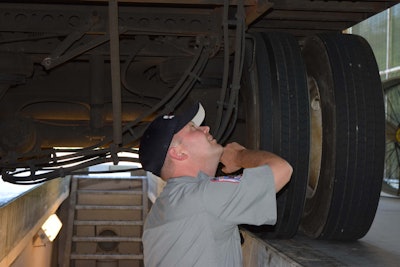 Just over 14 percent of inspected trucks were placed out of service for brakes violations during the Commercial Vehicle Safety Alliance's Brake Safety Week inspection spree in September.
According to CVSA, inspectors across the U.S. and Canada inspected 35,080 commercial vehicles during the blitz and placed 4,955 out of service.
A large area of focus for inspectors is vehicles that require antilock braking systems (ABS) and how well they are maintained.
Out of 26,143 air-braked power units that required ABS, 2,176 (8.3 percent) had ABS violations. There were also 17,857 trailers inspected that required ABS, and 2,224 (12.5 percent) had ABS violations. Finally, there were 5,354 hydraulic-braked trucks inspected that required ABS, and 234 (4.4 percent) had ABS violations.
CVSA returned to the week-long Brake Safety Week this year after conducting a one-day Brake Safety Day in 2017. The percentage of trucks with brake-related violations were about the same during the week-long event this year (14.1 percent) compared to last year's one-day blitz (14 percent).
During CVSA's International Roadcheck 72-hour inspection blitz in June, brake violations were the top vehicle out of service violation, representing 28.4 percent of all vehicle OOS violations during the blitz.