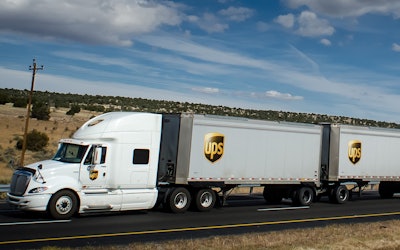 UPS Freight says it is working "to empty [its] network of freight by Friday," due to the potential for a work stoppage by its drivers. UPS Freight is the company's less-than-truckload division, for which about 12,000 drivers work.
The Teamsters Union represents the drivers, and union leadership has threatened a strike, says UPS Freight, should the drivers reject an offer made by UPS Freight on Oct. 25. The drivers rejected an earlier offer, made Oct. 5.
Votes are scheduled to be counted on Sunday, says UPS Freight. A vote in favor of the agreement would allow the company to resume operations, it says.
"The company has begun discussions with customers to inform them of the potential for a service disruption and the need to arrange alternative carriers," UPS Freight said in a statement. "We cannot afford to put our customers' volume at risk of being stranded in our system."
The stoppage would not include drivers in the company's parcel delivery service, for which about 250,000 drivers operate. UPS' small package drivers, also represented by the Teamsters, have reached an agreement with the company already.
UPS Freight and its Teamsters-represented drivers must renew their labor agreement every five years.