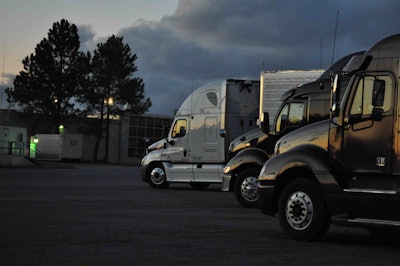 Updated policy guidance from the Commercial Vehicle Safety Alliance issued in late September establishes that inspectors should not disrupt drivers' off-duty or sleeper berth time, when they're legally parked, for a random inspection.
Though the policy is not law, CVSA guidelines are intended to create uniform inspection policies.
The text of the updated guidance dictates that "inspectors shall not disturb/interrupt any driver of a commercial motor vehicle in off-duty or sleeper berth status when legally parked for the purpose of conducting a random inspection."
Collin Mooney, executive director of CVSA, says inspectors can still interrupt drivers when they're parked illegally and need to move their truck. "But when they're parked at a safe location, a rest stop, the prohibition is to not wake the driver to complete an inspection," says Mooney.
The decision was based on anecdotal feedback, said Mooney, though there were no specifics as to any inspectors or departments that had been interrupting drivers during off-duty periods. But "apparently it was an issue somewhere," he said. "It became apparent that we needed to add a sentence" to its guidelines for random inspections.
This extends to off-duty drivers operating in team operations, says Mooney. "Our policy is to not wake up any drivers. As far as a co-driver needing to be woken up — it's not something that we encourage, because it defeats the purpose at that point of the driver getting their rest. With ELDs, [inspectors] should have access to that information without having to wake up the driver anyway."
Readers have filed comments to Overdrive in recent years noting interruptions for drivers in sleeper berth and off-duty status is sometimes an issue for team drivers. This story from Kenny Capell in 2015 illustrates the issue, as does this letter to the editor from driver Martin Hill in 2013.