Even the best, most proficient truck driver on the road today needs a little help from time to time, and he can get it from some of today's top technologies.
Garmin shifts dēzl's gears with new features, dashcam
The latest entries in Garmin's growing line of truck-centric navigation devices do more than just refine and improve on earlier models, they actually bring new features and capabilities to make driving easier and safer.
The dēzl 780 LMT-S and dēzl Cam 785 LMT-S both are loaded with the kind of features professional truckers are coming to depend upon. As living within allowed hours of service becomes more important than ever, the guts of these two devices prove their value.
The difference between the two is that the dēzl Cam 785 LMT-S has the dash cam and the dēzl 780 LMT-S doesn't. The dēzl Cam 785 LMT-S costs about $100 more than the cameraless dēzl 780 LMT-S.
LG Bluetooth headset pairs comfort with convenience and power
The LG Tone Pro HBS-780 is loaded with the features professional drivers want and need to stay connected while driving, and does so at a price even the most budget-minded driver can live with.
The LG HBS-780 is lightweight, draping comfortably around your neck. Its Quad-Layer Speaker Technology delivers superior sound quality, and includes hidden magnetic earbuds so you're sure to hear important messages from dispatch or a loved one at home.
With all those features, the HBS-78-0still has plenty of battery power for the long haul. It delivers 16 hours of talk time, 12 hours of music listening and 720 hours on standby. And, it has an operating range of 33 feet.
Grid-It keeps your gear organized
The Grid-It organization system by Cocoon helps keep many of your smaller and necessary items where they belong so you can find them when needed.
The Grid-It is a pretty simple device. A series of strong, elastic bands are woven across a flat service. This gives you numerous spots in which to stick a cord or a charger, screwdriver or a pair of reading glasses. They are held securely in place and remain readily available.
Cocoon offers Grid-It in a variety of sizes (from 5″ x 7″ up to 11″ x 15″) and configurations. Many have a zippered storage pocket that can hold a laptop, tablet or files. There's even one that slips over a sun visor.
Charger doubles as safety tool
The Xscape safety dual USB car charger does the jobs it's intended to do, and it also doubles as an emergency kit.
Inside it contains a safety cutter that slices through seat belts, and a hammer made to easily shatter windows in the case of an emergency.
When not protecting life and limb, you can use it to power up two devices with its USB outlets.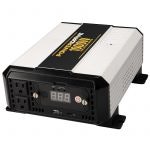 PowerDrive launches 1,000-watt Pure Sine Wave Inverter
PowerDrive's 1,000-Watt Pure Sine Wave Inverter is designed to provide clean, continuous power for sensitive electronics such as tablets, LED TVs and laptops.
The inverter is engineered to produce a smooth consistent wave while providing power equivalent to that located in a home, with no lines on screens or interruption in sound quality.
Also, all PowerDrive inverters now feature upgraded charging ports that include a standard USB 2.4 amp port and a USB-C 3.0 amp (15-watt PD) port.