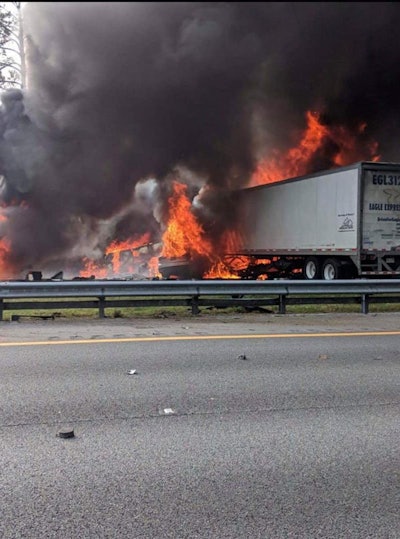 Seven people were killed, including five children and two truck drivers, and six to eight more were injured in a fiery crash involving two trucks and three passenger vehicles along I-75 near Gainesville, Florida, Thursday afternoon.
Florida Highway Patrol Lt. Patrick Riordan said in a press conference Friday morning the crash occurred around 3:40 p.m. Thursday when a tractor-trailer and passenger car heading northbound on I-75 near the 394 milemarker collided, went through the median guardrail into the southbound lanes, then collided with a passenger van and another tractor-trailer. The collision between the two trucks caused a massive fire that engulfed the two rigs and the passenger car from the northbound side of the interstate.
Riordan added that another vehicle was involved that either struck vehicle occupants that had been ejected or hit debris in the road.
The cause of the crash is still unknown as of Friday morning. FHP's homicide detectives are investigating the cause.
Troy Roberts, communications specialist with Florida DOT, said two of the three lanes of I-75 southbound will be open throughout the day Friday before crews close the center lane overnight Friday to conduct repairs to the road damaged from the incident. The northbound lanes in the area are all open.
The identities of the deceased children and truck drivers have yet to be released, however, Riordan said the children were all in the passenger van headed to Disney World from Avoyelles Parish, Louisiana, in the northwest part of the state.