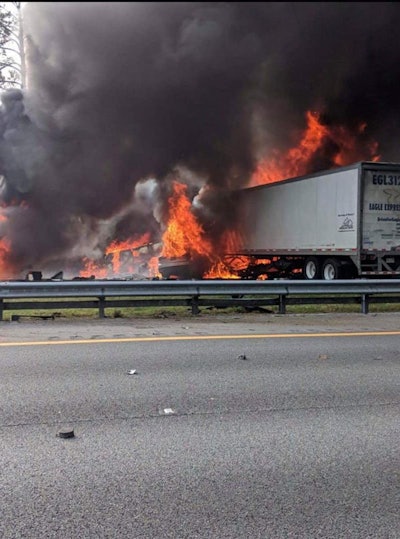 Last week's tragic, fatal crash on I-75 near Gainesville, Florida, that claimed seven lives was likely started when a truck driver moved left out of the right lane and collided with a passenger car, according to a preliminary accident report from the Florida Highway Patrol
According to the report from FHP Cpl. Gabriel Keyes, one of the semi drivers, 59-year-old Steve Holland, veered into the path of another vehicle, causing a deadly chain reaction that spanned across the north and south bound lanes near mile marker 394. The report states Holland moved left into the path of a 2007 Honda sedan "for an unknown reason," causing both vehicles to travel through the median guardrail and into the southbound lanes.
The report says Holland's truck then hit the driver's side of a 2006 Chevrolet passenger van filled with 12 people heading to Disney World. The van flipped several times, ejecting an unknown number of people. Holland's truck then struck another semi, driven by 49-year-old Douglas Bolkema of Albuquerque, New Mexico, causing a fire.
Keyes wrote that it was unknown if any van occupants were wearing seat belts. Five children, ranging in age from 9 to 14, were killed, along with Holland and Bolkema. Keyes also reported alcohol was not a factor in the crash.
FHP says it will take three to four months to complete the investigation.