Midwest-headquartered US Cargo Control, a provider of professional trucking and transportation equipment, rigging and lifting gear, and moving supplies, launched a newly revamped website over two years in the making. New product filtering and similar product suggestions, more detailed product information and more intuitive navigation were all part of the redesign toward a more informed and time-saving purchasing experience for customers.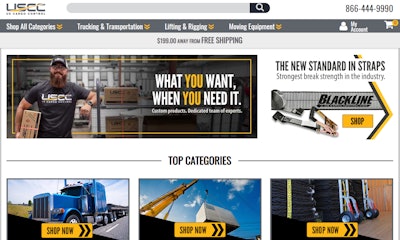 The company says the new US Cargo Control website also boasts faster site speed, enhanced security, more clear shipping details, and a more mobile friendly platform, the latter change key to the company's customer base. Says Tom Altman, US Cargo Control's Chief Technology Officer, "the industries we serve are comprised of folks who are always on the move. They're often working from the road or job site and don't always have access to desktop computers or the time to mess around with a clunky website. We set out to create the new standard for cargo control websites so we could give our hardworking customers the fast and easy shopping experience they need and deserve."
The company's sales staff remains in place and available for customer questions, orders, and other inquiries at their Urbana, Iowa, headquarters. The company also offers customers a VIP membership that affords access to discounts and industry information.