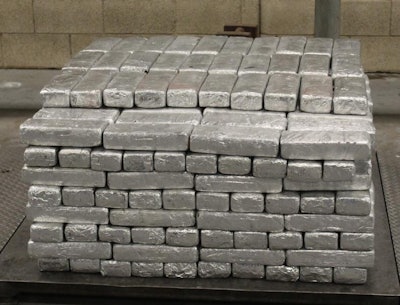 More than 900 pounds of methamphetamine was seized from a load of frozen strawberries in a tractor-trailer at the Pharr-Reynosa International Bridge near Pharr, Texas, on Feb. 16.
U.S. Customs and Border Protection says the seized meth was worth approximately $12.7 million.
CBP officers working at the Pharr-Reynosa International Bridge cargo facility arrested a 42-year-old Mexican citizen bringing the strawberries from Mexico into the U.S. Officers referred the truck for further inspection by canines and non-intrusive imaging and found 350 packages of alleged methamphetamine concealed in the load.
The unidentified trucker was arrested and released into Homeland Security custody for further investigation.