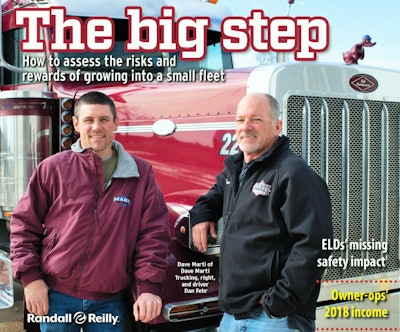 Still in his first year of multi-truck management, owner-operator Rob Hallahan estimated initial income enhancement at $200-$300 weekly per extra power unit a half-year in. With four owner-operators leased, that could amount to an extra $50,000 or more annually to bank or reinvest in the business.
Such added income for any small fleet operator, however, is hard-earned.
"My suggestion to anybody thinking of going from one to two trucks is to seriously think it through," says owner-operator Lee Epling of York, South Carolina. Epling has had operating authority since 2011.
With the electronic logging device mandate bearing down over the last several years, he tapped Georgia-based Robert Whittington, an owner-operator with long maintenance and fleet-management experience in the Savannah ports, to expand beyond the single truck he owned.
The move was spurred by twofold considerations. The added capacity of another truck in the fleet would allow Epling to better serve a direct account with a cable manufacturer. Also, Whittington's maintenance expertise would help him keep his older, ELD-exempt trucks operational.
The transition hasn't exactly been seamless, a common sentiment among small fleet owners. In good economic times, expansion is a commonly explored option for naturally entrepreneurial owner-operators. Only one in four Overdrive readers report never having considered it. Of the three in four who considered that leap, fewer than half of them remain a small fleet today.
More owner-operators are expanding, too, as the economy has rebounded from the 2009 recession. Over about six years ending in July 2018, the number of registered carriers with six or fewer trucks grew by 72 percent, based on an analysis by Tucker Company Worldwide broker Jeff Tucker. That's a net gain of 78,624 fleets.
While market conditions have improved for expanding beyond one truck, the basic challenges of growth, whether with employees or leased owner-operators, have changed little. Among them: increased liability insurance costs, new dispatch and freight management responsibilities, increased opportunity for inspections and the associated fallout when things go wrong, and other responsibilities.
For an owner-operator well-equipped to manage himself, his drivers and his equipment, though, there is opportunity for greater income, too.
Getting started: Solid freight relationships
Davidson Trucking, headquartered in Bradner, Ohio, due south of Toledo, started as the one-truck business of Daniel Davidson. Davidson grew up the son of a trucker and drove in the military.
After his father died in 1987 and his military service was finished, "I started figuring, the old man raised seven of us driving a truck," Davidson says. "Maybe I can do it, too."
As with many small-fleet origin stories, Davidson's move beyond a truck and dry van started with a relationship with a shipper who "wanted me to see if I could get another trailer that they could be loading when I was out running the other one," he says. "I went and rented a trailer and put it in there. And they were keeping me pretty busy."
Then, "They said, 'What do you think about getting another truck and driver?' " An Army buddy moved to Ohio and worked with him a year or two.
Things snowballed positively. He hired a former broker he'd been working with and who remains his operations and dispatch manager today. Many of the fleet's 20 trucks are controlled by owner-operators leased to the company and paid a percentage of the load.
Percentage compensation for employee drivers and leased owner-operators is common in new small fleets. Dave Marti, based in Forrest, Illinois, leases his six-truck fleet to haul fuel for Transport Services of Sullivan, Illinois. He believes percentage compensation for his five employee drivers incentivizes production and offers the self-motivated ones plenty of opportunity to earn more. Well-above-average income, he says, "helps keep drivers, and they earn it."
As with Davidson, Marti's growth over seven years was spurred by his primary customer, Transport Services. "In order to take care of the customer, I needed to grow," Marti says.
It worked out principally because his area has young men reared with strong work ethics on farms and who have an interest in trucking, he says.
In recruiting for his local/regional operation, Marti promotes "being home most every night," he says. That creates a tradeoff in his freight management because "work has to be in a certain area" to fulfill his promise to drivers.
That's hardly the only freight management challenge. "Let's say the big company [customer] you're working for gets bought out" and the carrier loses the account, he says. Rearranging schedules and working to maintain regular business consistently becomes a major challenge. For any small-fleet owner, he adds, whether leased or independent, "keeping freight is a constant thing you have to stay on top of."
Davidson's also been fortunate in that regard. That shipper that spurred his growth remains a primary customer to this day.
Next in this series: The expansion challenge: Mastering preparation for the unpredictable